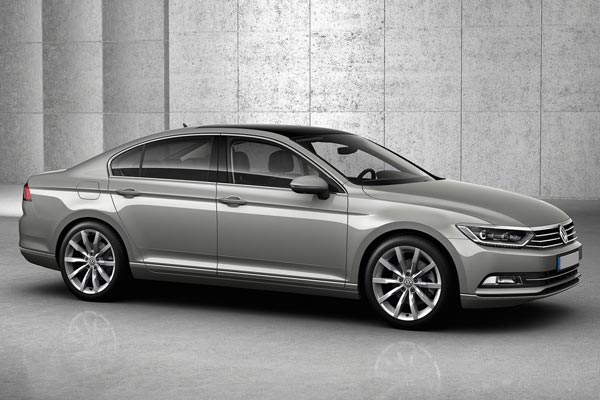 Another VW with great features
VW Passat saloon is a legendary vehicle with elite interior and stylish exterior
Volkswagen is one of the versatile saloons of its time. VW has tried to give its best to its customers in the guise of Passat saloon. It is a big saloon with elite touch of exterior and having superb interior.
Well balanced body structure and low centre of gravity frame make it a comfortable and relaxed saloon. It offers elite driving experience in town riding and on motorways as well. Its interior is quiet, smooth and silent while cruising. Its rivals are good and competent but Passat has its place in its class due to its features, quality and style.
Exterior is sober and interior is simple but excellent in formation
Passat offers great blend of luxurious interior and dashing exterior. Front grille is impressive with stylish front lights presence. Front bumper is good in style. Front hood is nice in designing and flat in formation.
Wind screen is of good angle good and dark crease on sides is good in appearance. Tail lights are good in appearance. Interior is great in looking. Its designing of interior is very simple but elite and sober. Stuff used in its interior is quite reasonable and handsome. Dashboard is graceful, loaded with equipment and quality features.
Sitting arrangement is good and classic with good leg and head room at front and at rear. Infotainment system is good. Steering wheel is at right and high place, offers good control and grip.
Practicality of this vehicle is awesome. Good and spacious cabin is great and boot is of good capacity as well. Seats are very soft and hip hugging. Interior and exterior offers good combination.
Features and equipment
General features are great in use and in quality as well. There is anti lock braking system with EBD assist, different types of alarming system, CD player, PAS, lumbar support, ISOFIX children seat anchor points, adaptive cruise control  with speed limiter, dual zone climate control, traction control, standard airbags with side curtains, air conditioning unit, heated seats and mirrors, electric windows and mirrors, folding rear seats, parking sensors, three sixty degree outer view assist, Sat Nav, front fog lights, electric sunroof, LED daytime running lights, LED front lights and rear lamps, headlight washers and steering wheel rake and reach adjustment.  Safety features are good enough to get five out of five in Euro NCAP rating.
Good engines support it well
VW has lot of options in Passat as far as engine option is concerned for its customers. It has superb and frugal diesel engines and perfect petrol engines. All of them are good in response and performance. The right pick out of lot of gems is a diesel engine. It is a 2.0litre BiTDI unit with 236bhp and 369lb/ft torque.
It is good in response and the fastest engine in the whole engine lineup.  It takes 5.9 seconds to get from 0-62m/h along with top speed of 150m/h. its fuel consumption is very economical with 50m/g along with 140g/km of Co2 emissions. It is fitted with seven speed DSG automatic gearbox with four wheel drive unit as standard.