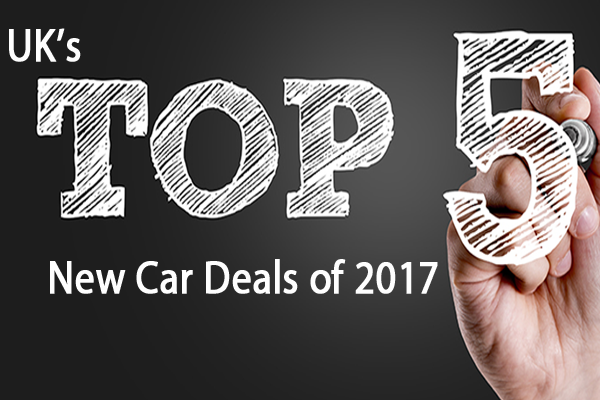 Just with the change of 67-plate in the UK, here is the list of top five new car deals available in the UK
As the 67-plate is going to trade off in few weeks, it's the best time to look what kind of new automobile deals available in the UK, and to what extent the manufacturers are offering the lowest prices. Although there are hundreds of deals available in the market and people are buying as well. But it is very tough to find the best deal in a way that which suits you the best.
As the best engine seller in the after-market, we don't want our clients buy a car with ordinary engine at very high price. We always guide our customers from scratch to the end of their buying process and then help them for life with the maintenance jobs. This round-up is also the part of the support project. This list of top five cars offered on the best price and great deal are derived from your own vote in the 2017 driver power survey. All the details of the payments you have to pay when accepting a deal, are given in detail along with the engine details of the particular car. The greater the discount, the easier it is to pay and some producers are discounting their cars in thousands of pounds and receiving 0% APR. The complete amount payable reflects what you as the purchaser pays on the end of the contract.
We have also enlisted the engine power and other vehicle stats to provide goal-to-pay costs. For those who are not able to buy a car on full payment at once, this list will allow them to buy a new car at minimum monthly instalments and even within your means of payment and on your own terms
Although the auto deals go through typical updates through the manufacturers and automobile brokers, the numbers enlisted beneath give you a clear thought of what you would expect to pay for every model. But make sure before you make your mind on any of the enlisted vehicles that there is always a chance of an unconfirmed change of prices and terms of deals.
Nissan Leaf – £209 per month
Model: Nissan Leaf Acenta 24KWh
Engines: 24KWh electric motor
Horsepower: 109hp
Torque: 187 lb-ft
CO2 Emissions: 0g/km
Fuel Economy: 70 miles per charge / 34kwh per 100 miles
Per month: £209
List price: £24,190*
Aim to pay: £18,250
Deposit: £2,112.78
APR: 2.99%
Deposit contribution: £5,000
Number of payments: 36
Final payment: £10,825
Total paid by customer: £20,461.78 (*Excluding Government grant)
The world of mobility is shifting over the alternate fuel systems and automakers have started manufacturing electric cars. Nissan is one of those modern automakers and introduced it's fully electric Leaf EV. Nissan Leaf continues to be one of the most lovely electrical cars but it's now not without its drawbacks. However it's not only providing the EV with a £5,000 reduction but in addition throwing in a free house charging unit to inspire customers to make the leap to zero-emissions mobility. It is gentle, silent on the go, and is all that separates the Leaf from the average and ordinary hatchbacks.
Apart from the weirdly silent electric motor, and the seamless surge of acceleration, the Nissan feels identical to an ordinary family hatchback. The Nissan Leaf gets 0-62mph in 11.5 seconds and has the best speed of 89 miles per hour. The truth is that the abrupt torque supply to all electric automobiles sees all 254Nm of the Leaf muscle arrive directly. The electric cars have more torque than all other conventional means of power, but it is very obvious that the leaf is not for the enthusiasts, and the dealing with is pretty sluggish. However, if you happen to just relax and enjoy the delicate experience and shortage of engine noise, it is an excellent customer car.
Nissan has made it a well refined electric car and offered a number of gadgets in the car that makes the refinement good, too. Nissan has offered its best cabin on the leaf and worked excellently to make it a road noise free and wind noise free cabin.
Nissan Leaf Engines
There's just one powertrain coupled within the Leaf as it is a 100 percent electric vehicle, unlike the Prius which offers an engine as well. All of the leaf models have a synchronous electric motor rated at 90kW which is equivalent to 108bhp. The electric motors are coupled with the front wheels and powered by a single speed transmission so that you best ever must put the vehicle into D for power, or R for Reverse, simple to drive.
SEAT Leon – £205 per month
Model: SEAT Leon 1.2 TSI 110 SE Dyn. Tech
Engines: 1.2 TSI SE
Horsepower: 110hp
Torque: 129 lb-ft
CO2 Emissions: 114g/km
Fuel Economy: 57mpg
Per month: £205
List price: £18,030
Aim to pay: £17,450
Deposit: £1,999
APR: 4.9%
Deposit contribution: £2,250
Number of payments: 47
Final payment: £6,042.15
Total paid by customer: £17,686.15
In the UK, there are hundreds of family car models on sale, but the SEAT Leon is one of the nice family cars to buy in the UK, mingling variability, pragmatism, and satisfactory dynamics. With excellent body shape and style, it is a fun to drive and has a stylish interior with a number of gadgets to assist the driver. The SEAT Leon is certainly one of the lovely hatchbacks available in the UK. The £1,999 client deposit with £2,250 supplier aid and £205 every month that makes only £50 a week repayments should make the vehicle much more appealing to buy.
The seat being a group member of Volkswagen offers a high-tech range of engines paired with the best chassis that's sporty and cultured. The Leon Cupra is an actual big name apart from being a big brand. A well-known variety of Volkswagen engines is offered in the SEAT Leon family. The Leon model family is the biggest in Seat model lineup and all the engines offered in the Leon model lineup are turbocharged, both as TSI petrol or TDI diesel. The engines family is huge to cover all market needs. SEAT is right to present this type of widespread engines for the reason that the entire army of the Leon defends it. Just like the Volkswagen Golf, the Leon model lineup also uses the same MQB platform, SEAT has taken a fairly sportier look for the Leon and this refined trade off prominence makes the Leon extra charming and thought-provoking vehicle to drive.
SEAT Leon Engines
If we talk about the Leon engine lineup, then the most successful engine in the family is the 1.2-Litre TSI petrol engine with 110bhp. It's used in many VW group automobiles and is performing as thriving as it is elsewhere. The extremely well priced 1.2 TSI cranks 110hp and becomes an even sweeter, free-revving and fuel economic engine. It feels so much power with its hefty pulling power of 129 lb-ft flows at it peat from 1400 to 4,000rpm. An impressively vast range of revs for a small engine. On the benchmark 0-62 miles per hour, it takes 9.9 seconds and a top speed of 121 miles per hour.
Meanwhile, there are many clients who ask about the 1.4-Litre engine because of their a bit hefty driving needs, it is a reasonably higher 1.4 TSI with a power generation capacity of 125bhp doesn't sound that much more powerful as the 1.2 TSI does. However the pulling power of 200Nm of torque between 1,400 and 4,000rpm doesn't make a big difference when compared to the smaller 1.2-Litre engine. In comparison to 9.9 seconds from 1.2-Litre, the 1.4-Litre takes 9.2 seconds to make 0-62mph. Do notice, although, that is the one Leon engine not to offer a DSG transmission. So it is not a wise deal to get a 1.4-Litre engine when you have an option of 1.2-Litre engine with just same performance stats.
However, the 148bhp 1.4 EcoTSI a hundred and fifty is an exciting engine and it offers cylinder deactivation technology. When it revs smoothly under 20 miles per hour, two of the 4 cylinders automatically to avoid wasting fuel. That you might not feel that you are driving with the half engine and its sound will remain the same and it will work fine too.
Mazda 3 – £199 per month
Model: Mazda 3 2.0 120PS SE-L Nav
Engines: 2.0 Skyactiv – G
Horsepower: 120hp
Torque: 155 lb-ft
CO2 Emissions: 129g/km
Fuel Economy: 49.1mpg
Per month: £199
List price: £20,765
Aim to pay: £18,275
Deposit: £5,910.12
APR: 0%
Deposit contribution: £1,250
Number of payments: 36
Final payment: £6,440.88
Total paid by customer: £19,515
Overlook the Mazda 3 and you're lacking out on a compact hatchback that offers sporty behavior and tons of instruments and optional features. For £200 or even less than a month, consumers can have a look at sleek styling that comes with plenty of features. In SE-L Nav trim, the Mazda 3 point's cruise control system, leather seats, parking sensors and automatic lights and wipers. There's so much to like about the 2.2-Litre diesel, however, the 1.5-Litre diesel is also economical and efficient. Mazda has a standing for producing good enjoyable and excellent to power cars with the aid of Skyactiv engines.
Even higher is that a variety of the components and characteristics that make the MX-5 physical games auto so much fun tend to search out their manner into more conventional models, and the Mazda three is not any exception. Because of its agile engine, the Mazda 3 has a stunning amount to present for keen drivers, and it's an entry level model for riding fun in the hatchback sector.
The steering is swift and naturally slanted, while the car gives the touch that all four tyres are sharing the cornering loads equally. But this nimbleness on winding roads doesn't come on the top, as the Mazda 3 rides bump with shocking suppleness.
Mazda 3 Engines
Although our focus is on the 2.0-Litre Skyactiv engine, it is very important to explain the leaders as well before explaining the favorites in an engine family. The Mazda 3 is a swift car peculiarly when it comes with the 2.2-Litre Skyactiv diesel engine, which cranks 148bhp and has a 0-62 miles per hour time of 8.0 seconds in the Fastback saloon and 8.1 seconds in the hatchback models. The diesel engine also has a number of mid-range pulling options and it's really responsive, so which you could take advantage of the engine cheerfully by send off it in equipment, quality for overtaking or on the motorway. However, the six speed manual transmission grants an unrivalled shifting performance. Snappy, optimistic and profiting from a somewhat quick throw, it delivers another layer of driver immersion to the Mazda 3 Engines.
Out of the bunch of ultra-performing Skyactiv engines, our choice is a 2.0-Litre Skyactiv petrol engine that cranks 118bhp and is predicted to be the largest seller in the Mazda 3 model lineup. It dearth the mid-range knock of the diesel but it surely isn't some distance in the back of it when it comes to the acceleration. At the benchmark speed of 0 to 62 miles per hour, it takes 8.9 seconds for the hatchback and 8.8 seconds when linked to the Fastback. You have to drive it a fair bit tougher than the diesel to get essentially the most out of it, though, and it will probably get nastily noisy at extreme revs.
the engines discussed above or even others used in the Mazda 3 are powered by Mazda's Skyactiv technology, which makes the cars extra efficient by saving weight and return both more desirable efficiency and better fuel saving. The latest Mazda 3 is way lighter on its weight and less expensive than its predecessor.
Enormously, Mazda hasn't forfeited enhancement for performance and handling, as with the sportier cars. The 2.2-Litre diesel is immensely noiseless for such an engine and the 2.0-Litre petrol is similarly whispered and placid. Wind noise has also been reduced to the minimum level, however, there is a little bit of tyre and road din.
Renault Captur – £159 per month
Model: Renault Captur 0.9 TCe Dyna Nav
Engines: 0.9TCe petrol
Horsepower: 90hp
Torque: 100 lb-ft
CO2 Emissions: 114g/km
Fuel Economy: 54.7mpg
Per month: £159
List price: £16,595
Aim to pay: £14,400
Deposit: £3,084
APR: 0%
Deposit contribution: £1,250
Number of payments: 36
Final payment: £6,537
Total paid by customer: £15,345
The Renault Captur is based on the elegant crossover and offers exclusively sleek looks and a lot of customization, however, there are higher end automobiles of this range around. The Renault Captur has simply been given an update, and as part of this best deal, dealers are contributing £1,250 in the direction of the rate of the pre-facelift crossover to draw consumers in. Monthly payments are simply in your means, which are just under £40 per week or £159 per month, even though the 6,000-mile annual limit is a little tightfisted. The small range of engines and none are primarily powerful, even though automatic substitutes on each diesel and petrol are even excellent.
If you got a chance to drive a Clio, then the Captur will likely be very familiar to power, this is because both of the models are manufactured on the same platform, used same engines and most of the mechanicals. The Captur bought no revisions in this field for the 2017 update, either, that is the only reason that can push the Captur backward in its class. Admittedly the Captur is practically economical but it is not a powerful car to push hard on the motorway, but it's handy and rather gentle too, suiting its standing as an upmarket supermini and making it a workable grown-up competitor against all major family hatchbacks.
Renault makes excellent use of the additionally high suspension settings, which helps take the edge off lumps and bumps on the city roads. The driving experience is probably beautiful, although the harshest potholes can make their way to the cabin. The place the Captur falls behind the fine small SUVs is the way it handles and same problems were noticed in the Peugeot 308 and Mazda 3 too.
Renault Captur Engines
Renault doesn't offer Clio's lackluster 1.2-Litre petrol engine on the Captur in its same form as it is being used on the Clio. Essentially the strongest Captur engine produces a 118bhp and no variant dips under 10.9 seconds to reach 62 miles per hour even armed with an extra torquey diesel engine. The only plus side is that all engines are turbocharged, so every Captur offers a torquey power delivery.
The 88bhp 0.9 TCe 90 opens the model range. The three-cylinder unit does suffer some rapid-lag, however, there may be a reasonable amount of power and considerable efficiency, notably if you spend most of your time darting around town.
Toyota Aygo – £129 per month
Model: Toyota Aygo 1.0 VVT-i
Engine: 1.0-Litre VVTi
Horsepower: 69hp
Torque: 70 lb-ft
CO2 Emissions: 95g/km
Fuel Economy: 65 miles per gallon
Per month payment: £129
List price: £14,195
Aim to pay: £13,095
Deposit: £3,123.50
APR: 0%
Deposit contribution: £0
Number of payments: 41
Final payment: £5,782.50
Total paid by customer: £14,195
Toyota Aygo has style, personality and is fun to push it on the road. But to what extent Toyota Aygo is in shape to fulfill the needs of the today's city car users? The Toyota Aygo comes with zero per cent APR, despite the fact that in contrast with the Toyota Auris, buyers don't make contributions to the price. This doesn't make the tiny city vehicle any less cheap, although, with monthly payments of just £129. The £3,123.50 deposit shouldn't be too steep for many of buyers. This tiny city car is powered by a little but lively three-cylinder engine makes all of the correct whistles, however Toyota's tiny Aygo is the most suitable city car for those who live in the city area and face everyday parking issues.
People who used the previous-iteration of the tiny Aygo will think at the back of the wheel of the brand new model. For starters, the 1.0-Litre three-cylinder engine is used and it is the same as it was used in the old automobile with small but noteworthy tweaks. Total fine-tuning is prominent, but the engine has the equally melodious soundtrack and a very economical nature. You could hear it so manifestly given that Toyota has done a greater job at stifling wind and road noise. It can be a bit higher at motorway speeds, but it still falls a way behind than the cars like the Hyundai i10 and VW Up! For long-distance refinement and relief.
Toyota Aygo Engines
Toyota has offered only one engine for its Aygo and it is 1.0-Litre 3 cylinder VVT-i unit. An enthusiastic performer that's joyful to rev, filling the cabin with a distinctive three-cylinder sound. Even as some may just find it disturbing, others may love the rusty tone. Certainly, Toyota engine division says that they have received positive client suggestions in the past years and these suggestions have focused their minds on reducing road and wind sounds coming into the cabin, chiefly so the engine without getting any louder – could be heard better.
The entertaining tone is blessed, as above all lengthy first and second gear ratios mean you must rev the engine hard for some extra oomph but a lot of efficiency for nipping round city traffic and the revision in ratios means the engine does consider much less stressed at a persistently quick motorway cruise, compared to its older version. The Aygo has a total power of 69bhp and it is developed at 6,000rpm, but from 4500 rpm, engine starts delivering the maximum torque of 90 lb-ft to push the tiny package a bit firmly. The x-shift manual transmissions and automatic transmissions have fairly shorter gear ratios, so feels as if it picks up the speed even quickly around town. It blips the throttle on downshifts, too. The authentic efficiency figures are pegged neck-to-neck for both transmissions though, as each version of the Aygo engines takes more than 14 seconds to get it from 0-62mph, top speed is also not that fast but as per engine power and size, it is considerably good at just under 100 miles per hour.
Technical improvements over previous models of the 1.0-Litre engine are focused on better combustion, elevated efficiency, reduced inner friction and exhaust emission drift optimization.