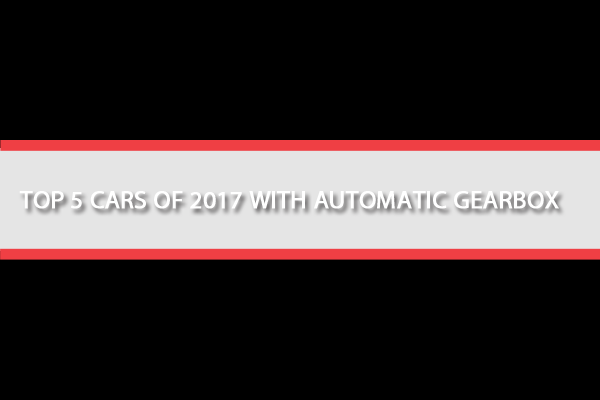 Pioneering the automatic Gearbox in 2017, we have selected top five cars with automatic gearboxes while being way in your price range
Silk and smart gear shifting is the best thing ever you can have in your vehicle but when it comes while being into your price range, it's like a fun and it doubles up your happiness. We have selected top 5 cars with automatic gearboxes and all of them are fun to drive and every model is an example of the quality built automobiles. All of these vehicles are currently on sale in the UK markets.
It was not far ago when drivers were thinking that driving a car with an automatic gearbox is like a devil's work and the automatic gearboxes were seriously disregarded in the society of drivers and automotive fans. Then the era starts when automatic gearbox became the symbol of luxury and automotive manufacturers started offering the automatic gearboxes as an option in the cars at higher prices. This trend has gradually changed the minds of people and the stigma attached with the lazy drivers has been removed that the automatic gearbox are for lazy drivers who are lazy enough to even shift a gear manually as manual gearbox pose more fuel economies than the automatic gearboxes. In the modern gearboxes, this myth of being less fuel economical has also been busted when the auto gearboxes are giving more mileage than the manual gearboxes.
Cutting-edge technologies in the automatic gearboxes are triumphs of engineering, and technology has developed to its extreme in the previous decade that one of the most world's finest driver's cars come with an automatic gearbox either as regular or as an optional choice. Apart from this trend, though, there are number of cars come with auto gearbox and every car has different type of technology in its gearboxes, and at the same time, there are some terrible units out there, the excellent are still excellent indeed. Good automatic gearboxes are now the part of the cars of almost all sizes and shapes, and there are even supermini cars available which are just as striking as the priciest luxurious models with auto gearbox. While the benefits of getting super rapid-hearth gear changes are clear on the track, different advantages of automatic gearbox are much less obvious. One subject of space, modern-day automatic vehicles can have an edge over their manual counterparts as it was the big drawback attached with the autos in the past, is fuel economic system and emissions. As a rule wiser and higher synchronised than an ordinary driver who is driving a manual vehicle, the ultra-modern auto gear shifting can shift gear swiftly, extra smoothly and on the fine feasible moments to maximise effectivity of the engine power and fuel efficiency as well.
Enthusiasts of automatic gearboxes will tout their relaxing nature, too – giving your left leg a relaxation and allowing the car to shift gears by using its own system takes the sting out when going through the congested cities and traffic like in central London, and permits you to focus on complex junctions of M25 and M4 and then on the M1, all around London orbit and several other places in the city. Drivers who are not too confident about the auto gearboxes may additionally welcome to find an automatic gearbox for them, as they are impossible to stall and ensure soft gear shifting even on steep hilly roads in case if you are travelling on the deadly A9 in Scotland.
Now we have picked up 5 of the top cars with automatic transmissions, but we've no longer ranked them in any certain order as they span the sort of wide range of model types – we now have bought the whole thing from automatic city cars to SUVs and supercars. But before we get into the list, here is an instant introduction to the types of auto gearbox on offer in these days as there are number types of automatic gearboxes. Let's go through one by one.
Torque converter automatic Gearbox (Traditional Automatic Gearboxes)
The oldest and high-quality-known sort of automatic gearbox is frequently called an 'average automatic', but it surely is an extra correctly named as a torque converter automatic. In this type of gearbox, a fluid coupling used between the engine and gearbox which transfers the engine power over the wheels. These gearboxes had been in use in the middle of 20th century.
The majority of cars with the Torque converter technology offers very delicate power shift however, now in the modern gearboxes, the gear changes process has been converted into a lightning fast process, earning them the affectionate identity of 'slush boxes' in some cases. That popularity is altering although, largely due to awesome torque converters manufactured and designed by world's best transmission manufacturers like the ZF. Their eight-speed auto transmission is a big bang, which is outfitted in dozens of performance cars in the world where the most common are BMWs and Jaguars.
Twin-Clutch Auto gearbox
This sort of gearbox is known with names in the market and every name is given by their distinct manufacturers – Volkswagen calls it a DSG, Porsche says it a PDK, however, now Fortwo has made a move and given it a more catchy name and called it a 'twinamic' transmission, but all comply with an identical set-up. A twin-Clutch method operates with two clutches, as the name identification would suggest. One clutch handles odd numbered gears and the other handles even numbers, and the both work in synchronised way to provide amazingly rapid gear changes.
On the move, twin-clutch automatics are subtle, speedy-shifting and on the fuel economy and emissions, also left their manual rivals behind. Nonetheless, for pure congested traffic using they are a bit jerky, and when they ditched into any fault, they are pricey to repair.
CVT automatic (constantly Variable Transmission)
This is another option in the list and it is a CVT or constantly Variable Transmission. Pioneered through DAF in the 1950's, these use belts alternatively in place of the gears to furnish a single variable gear, making soft and seamless gear changing. Affordable and inexpensive to restore, these types of the gearbox are satisfactory but kept away from keen drivers as they can give a quite disengaged feel to the car – as well as being noisy under load.
Automatic manual Gearbox
Rounding matters off is the automatic manual transmission. These transmissions use a standard clutch system and gear set-up but robotised the action. These transmissions are used usually in low-cost city automobiles – for instance, Smart motor manufacturers used the fully automatic manual transmissions across the Fortwo range unless probably the latest models. They have the knowledge of being affordable, light-weight and easy to use- however, are quite often jerky around the city and below difficult spurts. They are in general, fine skirted, and also you will not to find any in our top 5 list. But we have added the most modern Smart Fortwo model with DSG transmission known as Twinamic. Let's have a look at the top five automatic transmission cars.
VW POLO DSG
Volkswagen with its first-class refinement and stylish cabin technology used in the Polo, the VW Polo is the small city car that thinks significant. This effect of high-priced superiority is amplified by using the optional twin-clutch DSG gearbox with seven speeds. Offering crisp and quick to respond shifts in auto mode, the transmission gives an effortless performance in the Polo, especially when it's mated to the punchy VW Polo 1.2-litre TSI petrol engine. Drivers who are after a bit of more involvement can shift ratios manually utilising both the lever and the optional wheel hooked up paddles offered in the different models of VW.
Jaguar F-Pace eight-speed automatic
Once the Jaguar XF was one of our favourite automatic Jaguar model, but with the arrival of the brand new F-Pace SUV crossover, all the feelings of being favourites have been shifted over the new models.
The sleek and desirable F-Pace is fitted out with an eight-speed automatic transmission that helped to revitalise its saloon vehicle models. And whilst the average torque converter unit would possibly not have the hi-tech appeal of twin-clutch systems, it's so gentle and quick at the same time to reply that you won't think you're lacking out of power at any stage.
We might take our F-Pace with the 178bhp Ingenium diesel engine and all-wheel driving technology, because the blend of keenly stacked ratios helps furnish eager acceleration, at the same time the lengthy-legged eighth gear transmission helps with the splendid fuel economy figures. The eight-speed transmission works extremely well in the 3.0-litre V6 diesel F-Pace as well, mind you, and you can additionally experience it in Jaguar's XE model which the best rival to BMW 3 Series.
Smart Fortwo six-Speed twinamic
The Smart Fortwo is based in Renault Twingo and is a much more advanced offer than its predecessors, and the twinamic dual clutch transmission alternative makes it higher nonetheless.
With its engine at the again there is room for masses of steerage lock, making the Fortwo totally steerable around town even in the congested traffic of London. There is a pair of tremendously frugal three-cylinder engines for greater fuel economies, however, refinement and ease of driving are all much accelerated when they are mated to the twinamic auto transmission.
Porsche 911 PDK
Efficiency auto purists will reel back in horror on the recommendation, however, the fast Porsche 911 makes extra some extra feel as an automatic. But Porsche's seven-speed PDK twin-clutch gearbox is so good that you simply will surprise why you ever concerned about a clutch pedal.
Like rival systems, Porsche's PDK gearbox system serves up seamless gear shifts when left to its own gadgets and powerful engine changes while you take manual control. The transmission is also available with a launch control system that offers zero-60mph in a fraction seconds. The one drawback is that Porsche boldly charges further for the pedal shifter.
SEAT Leon DSG automatic
Our compact loved ones vehicle favourite, the SEAT Leon, gives an impression of being a great fun to drive as an automatic vehicle. Like platform-sharing with VW group sister models, the VW Golf and Audi A3, the Leon makes use of the manufacturer's exquisite twin-clutch DSG transmission, which is a slick and responsive performer. It's offered with a bunch of petrol and diesel engines, however makes the most sense with the efficient 1.2-litre TSI petrol engine.