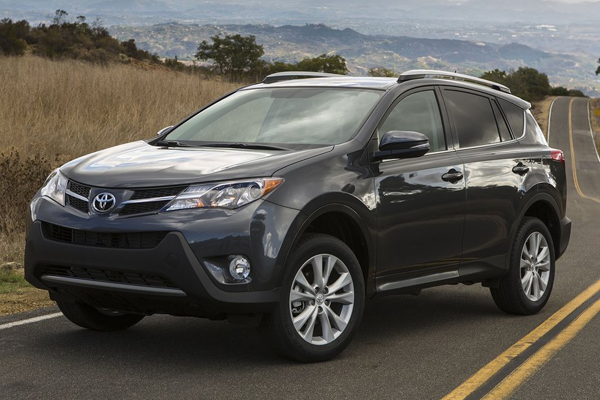 Good enough though little bit slow
Toyota has been a leading manufacturer of family-sized SUVs since 1990, and it shows its craft in the latest RAV 4 which is available in multi choices of petrol, diesel and hybrid powertrain.
The popularity of the SUVs has got lift in recent years because of their practicality, performance and luxury. Toyota RAV 4 is the original compact SUV. The manufacturer is right to claim to be the founder of this SUV class in automobile industry, when Toyota introduced its first generation of RAV 4 as 4×4 crossovers in 1994.
Now the latest models of RAV 4 are more practical than before.  There are some good rivals also in the market of Toyota RAV 4 as the Ford Kuga, Mazda CX 5, Hyundai Tucson and above all Mitsubishi Outlander.
Toyota RAV 4 has something for any one with diesel, petrol and hybrid engines, as well as with front wheel drive, 4 x 4 drives with manual and automatic gearboxes.
The diesel engine line up starts with a 2.2 litre D-4D which produces 124 bhp and takes the car from 0-62 m/h in 9.6 seconds, though little bit slow in performance but quite good in towing power of 2000kg in weight. It is a front-wheel drive engine.
The Toyota has removed its old 2.2 litre engine from RAV 4 and gives a new 2.0 litre diesel engine to cover up the deficiencies of its 2.2 litre engine with more power of 141bhp and also good enough in the sprint of 0-62m/h in acceptable 7.3 seconds. It gives a good fuel economy of 60m/g, 10m/g better than its predecessors.
It is four-cylinder with six-speed manual and front-wheel drive engine gives a nice and smooth ride with efficient emissions of Co2 at the rate of 124g/km. In performance the VW Tiguan, a 2.0 litre turbocharged version is equal to Toyota RAV 4. RAV 4 is good in performance but it never feels a sporty as its rivals. Toyota RAV 4 in its petrol versions is the most least popular choice of the people of the UK.
There's only one engine in the range, 2.0 litre petrol which is offered with CVT automatic gearbox and four-wheel drive as standard. It takes the vehicle from 0-62 m/h in 10.7 seconds. It produces 151bhp of power with a fuel consumption of 43.5m/g. there's a hybrid engine in line up.
The RAV4 Hybrid Engine
The RAV 4 hybrid is the only one engine with optional choice of front- wheel or four-wheel drive. The front-wheel drive version is more efficient in fuel consumption than four-wheel drive.
In performance there is no big difference in between both of them. Both versions are considered as the fastest in the range with a sprint of 0-62 m/h in 8.4 seconds and reaching at the maximum speed of 112m/h. in its hybrid version the Toyota RAV 4 has used 2.5 litre petrol engine with an electric motor.
The combined power of this version is 197bhp, so it is good enough at overtaking on the motorway.  The front-wheel drive version aimed at business users and a four-wheel drive with an additional electric motor in AWD model on the back axle.