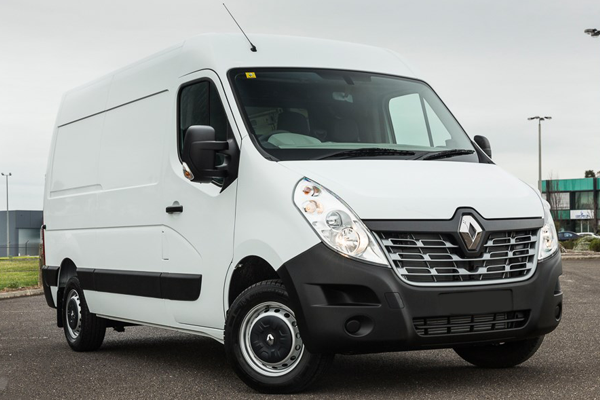 Variety of colors is available to make it an attractive option to carry passengers
A vehicle that carries twelve grown up people is quite rare and Renault Master is one of these few options with adequate space for every single person present in the cabin. For commercial purpose or to serve pick and drop of staff it is an economical alternative.
Boot space is also suitable to hold luggage of the passengers traveling in it that is why it is more like a bus. It is not really big so it falls in category of cars and the person you hire to drive it does not need a license other than of car driving. It is an automatic model. For business cost is vital issue and this vehicle suits their budget.
Safety glass breaker, seat belts for every occupant and fire extinguisher are part of safety kit but airbags are missing and it is common for all passenger carriers of this size.
Excellent safety features of the vehicle
It has both rear view camera and parking sensors to make things easier for person controlling it. Optional high suspended seat for driver is there but standard seat is not elevated for a better vision of extreme back rows. But mirror is there for this purpose and serves efficiently with seat adjustment facility.
Wheelbase and width clearly suggest that the cabin is roomy. But with dimensions of 6.2 meters and 2.1 meter basement parking becomes issue particularly the height of 2.4 meters would hinder it. The roof height is beneficial especially when passengers are tall. Access for the driver is an issue as he/she could not get to main cabin from his seat but has to use rear sliding door.
Enough space in the cabin
To keep things with you while traveling. The vehicle has overhead bins, caddies in dashboard and folding of front middle seat. It offers you cup-holders and a lot of flat area.
Entertainment system has CD player, connectivity of Bluetooth and USB slot to increase list of options. If you are ready to spend more than touch-screen with satellite navigation can be part of your new Renault Master. Auto lights and headlights with lane departure intimation system have been gathered in another package.
Renault Master Engine power
In the bonnet you would see 2.3 litre turbo diesel Renault engine capable of 110KW power and torque of 350Nm. It provides enough pull to keep this big vehicle moving at a formidable speed even on steep tracks.
Fuel efficient engine would be praised as it covers 100km distance by consuming just over ten litres of diesel. Speed transmissions are six in number and semiautomatic in functioning. Gearbox is not an ideal one so next model must come up with an improved one. It provides you both seating capacity and space at a cheap price.