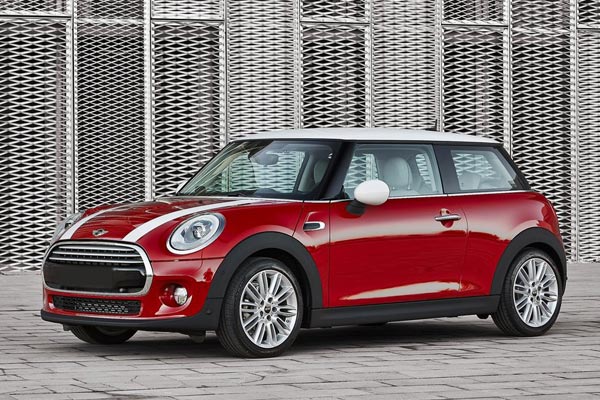 Different appearance hasn't dented its performance
Talk about difference and there can be no better answer than Mini Cooper. It is not stylish, not elegant and not lavish but what it is is beyond all of these characters. It is charming and charm lasts forever.
There have been a lot of changes in its current 2018 face lift. Engine weight is reduced, exterior is revised a little to get along with the LED lights and the three door model is raised a little to make the family a little more comfortable inside. No matter what aspect you choose it is brilliant, although less practical in some models.
But when you are going to purchase a car due to its fun factor then any thing else should be dropped out of the boundary. From the very start till its present mid age upgrade the name mini is truly kept that way.
There is no extra bulk added in any way to loose its recognition and this is the beauty of it. The perky design may mislead you but the hatchbacks are extremely convenient and family friendly.
Remarkable engine choices
There is a three cylinder engine in the range with 189 hp. Then another one is a four-cylinder engine giving off 189 hp providing lots of fun throughout. At the corners Cooper is outstanding maintaining a strong road grip and body balance.
The most power delivering Cooper engine is the up-rated turbo-4 to make 228 hp. This one is the most exciting one making the driver love each and every move of the car. The convertible is a decent carrier routed towards entertainment on road while the fur door wagon is a precious family ride but the fun part is kept alive even in this model.
All these engines have the option of getting a 6-speed automatic transmission or a manual transmission. Some trims models are front-wheel drive and some are all-wheel drive.
Interior capacity
The two door version has less room due to its smaller size. But still has a good space as compared to how it appears and when the seats at back are folded there is an 8.7 cubic feet of cargo that comes available.
The four-door versions are however ahead in this respect providing usable area of 13.1 cubic feet with second row in place and when the seats are folded this provision becomes 40.7. The Clubman models further excels in this respect with 17.5 cubic in original form and 47.9 cubic feet in folded state.
Safety aspect
There is a mixed expression on this side of Mini Cooper. With eight airbags comprising front, side and window there is a good chance of good rating. Then there are knee airbags for the front seating.
With thick pillars there is a big problem of vision which places the vehicle in a doubtful position. Due to its compressed interior it becomes difficult for the tall drivers to spot the stop lights.
Rear visibility is very poor in the convertible due to the folded roof. But this can be handled with the rear view camera which comes as standard. And if you are talking about more options then there is a price you have to pay.
Read the latest MINI Cooper review here.