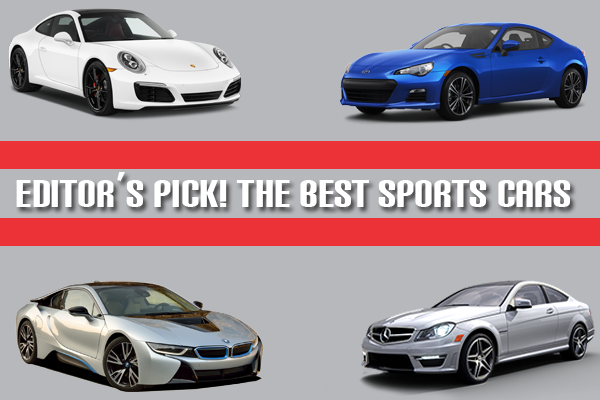 Let's try to understand what a sports car is and what the recommended cars are?
Keep your seat belts fasten and hold your hearts up, we are about to leave for the world of speed. The sports cars! Yes it is where the speed starts, but you can't believe that the limits are sky when it comes to the top speed in this universe of cars. Sports cars, super cars and then the hyper cars but we still didn't talk about the blood hound. A legend, A car where speed lefts behind when it thrusts with its rocket engine. A normal road could not handle it. It's an ultra-hyper car. The answer is very simple, its sports cars, just like if you ask any scientist that from where human came? He will definitely not tell you about the first ever human being came on the earth but will discuss about the apes. So, the existence of speed in the motoring world based on the sports cars.
What actually the sports car is?
It's generally believed that everyone unconsciously knows and understands that what a sports car is, but making it clear and easy to understand by further pinning down  the details to find a particular definition can be complex. Let's get help from a source where we always went to ask the meanings since school life, the Oxford English Dictionary.
This source totes up with simple and easy to understand definition of the sports car and says that "a car which is designed for performance at high speeds," but we'd contend because it overlooks a legitimate aspect of sports car which is ownership of pleasure and enjoyment.
What a racing legend says about the sports car?
A racing legend – upon asking about a sports car – starts its definition like, sports car should be fast, full of racing fest and every time when you go aboard, it must pull a big grin of feelings on your face.
According to editor, the sports cars, apart from speed and enjoyment, tend to be more expensive than practical unlike the family cars.  It doesn't mean that the sports cars are naturally impractical, we have featured some models of sports cars which have four seats and have exclusively designed and fabricated for same kind of driving pleasure that a two door coupe with two seats offers you.
And all those features discussed need to be recompensing for the pure driving pleasure, as a major selling point because buyer already knows about the speed and performance. But what if on a speed of over 100 miles per hour, start feeling himself exhausted before his car. Now move on the fuel economy of a sports car, there are number ultra-modern engines used in the sports cars these days and these engines are capable of returning a fuel economy of more than 60 miles per gallon.
The editor has picked up a list of top ten recommended sports cars for you and he has covered a wide range of models from coupes to convertibles and the consideration of affordability has also been well thought-out. Although defining a sports car was a bit tricky but with the help of this list, selecting a suitable one will not be that difficult for you. Let's get ready for the crash landing now as we will not be able to land smoothly while having an eye on the sports cars welcoming us into the world of sports cars.
Porsche 911 coupe
The evergreen, always on the top and rules the hearts of the lovers of sports cars.  Porsche 911 coupe straddles a border line between sports cars and supercars, and too many exemplifies the very core of what a driver's car must be or even should be. A real icon of our time, its rear-engine design, individual silhouette and top-notch performance has barely changed over a long time. The technology has, though: all engines at the moment are turbocharged, a move that had 911 purists vexed but as with the 718 Cayman and Boxster, turbocharging has introduced reduced running costs and growing efficiency, so that you may have your cake and experience to drive it with power and efficiency to unlock the speed. Add an expensive and finely crafted interior and you will see why the 911 is rightly revered as a dwelling legend. There's only one slight thorn in the Porsche 911's features and it comes from its manufacturer: the Porsche 718 Cayman S has an identical 0-62mph time and is arguably as pleasing to pressure, but is around £25,000 and is definitely a more cost-effective.
Subaru BRZ coupe
Welcome to the universe of the boxer engines, its own kind of engines used only in the Subaru models across the globe. The Subaru BRZ was designed by the same team and is constructed on the same platform and even the assembly line as the Toyota GT86 that sits at the sixth location in this list. The run from 0-62mph takes 7.6 seconds in the BRZ and you can set up lots of the performance without risking your driving license. A six-speed manual gearbox comes as standard and Subaru also presents an automatic transmission, this makes the car slower and arguably misses the whole factor of the BRZ, to be as satisfying and interesting as possible. With both sibling sports cars, the GT86 and the Subaru BRZ stimulated through an inspiration of simplicity and balance, the Toyota and Subaru offer the same tactile, worthwhile riding experience with ample power from a 197bhp engine. The BRZ consists of a slight down worth, and is only ranked beneath the GT86 because there are fewer Subaru dealerships to consult with customers want to buy this sports car. When it comes to deciding on, you relatively can go for any badge you select because of a wide range optional features and standard features as well.
BMW i8 coupe
It's lumpy to suppose that the BMW i8 is a vehicle which you can just go out and buy; inside and outside it has the looks of something from a science-fiction movie. Futuristic looks apart, its an actual experience to power, combining the 1.5-litre petrol engine from the MINI Cooper with two electrical motors and 4-wheel drive to slingshot from 0-62mph in 4.4 seconds. With performance like this, the i8 is actual replacement to some of the leading sports cars of this era, while returning as higher as 135 miles per gallon and CO2 emissions as low as 54g/km. these figures are actually impressive for a sports car. There are few cars on sale today that draw as many admiring glances as the i8, so it's as a whole a negative choice for wince violets. That you would be able to boundlessly convey three small sized neighbors together with you to make you believe more comfy, although the i8 is one of the sports cars that can seat four in a pinch.
Mercedes C-class Coupe
The C-class coupe offers the perfect style and quality you'd anticipate of a Mercedes. It's a sports car with small offering, a decent amount of driver commitment when you want it to, however offering an effortless high-speed cruising experience. Opt for the Aromatic Agility package deal from the choices list, if you want to make most use of this split persona, because it makes it possible for you to configure the suspension to the specified specifications. The diesel models boast low running costs and might shrug off the motorway journeys excellently, while the range-topping AMG C63 S has muscular looks backed up with the 503bhp engine and great performance. All units revel in a good-appointed and fantastically designed interior, in combination with plenty of power coming from the Mercedes AMG engines and fascinating road manners, even as reasonable 4-seat practicality doesn't rule it out as a sports car automobile, either. And there's no supervising the comfort and stature of that three-pointer superstar on the grille.
Toyota GT 86 coupe
The GT86 is a real enthusiast's alternative and one of the few modern sport cars that favour dealing with strength, speed, and power and driver involvement over brute power coming from Toyota engine. It's now not a slow coupe, a safe 2.0 litre engine capable of producing 197bhp is more than ample, and the low riding position, common rear-wheel-drive design and consider down that lengthy bonnet endear it to ancient-college sporting events vehicle lovers. At the same time many carmakers are delivering massively robust engines to their sports cars, Toyota is to be praised for taking a different route with the GT86. Believe it or not, it comes with the equal size tyres the carmaker suits to its oh-so-intelligent Prius hybrid, however this best improves matters within the GT86: it makes the riding experience pin-sharp and confers the GT86 with just the right extent of grip. Things are otherwise much less appealing inside of the GT86, because the dashboard is uninspiring and points relatively run-of-the-mill materials; however that will be the final factor in your mind on a challenging track.
Mercedes-AMG GT coupe
It took 5 decades for Mercedes to introduce an appropriate rival for the Porsche 911 and there was once no questioning about the talents of the AMG GT when it finally arrived. Its unique profile conceals a 456 hp from Mercedes AMG 4.0 litre V8 engine under a long bonnet, at the same time evolved chassis, technological advancements, and manner each little bit of that power can be used. For those with a style for more, the 503bhp GT S variation is Mercedes finest road legal sports car yet. It's now not only a plaything, either with its lavish inside and space for two, it begs to be taken on lengthy, rapid trips away to sunnier climes. Okay, so it's expensive, with the most cost effective variation being coloration under £100,000, however the AMG GT is both an object of desire for sporting events-vehicle lovers and a showcase for what Mercedes can do when it works closely with its AMG division. The AMG GT's amazing type is backed up with a real affluence.
BMW 2 series coupe
the 2 series presents the intact hallmarks of standard BMWs and focuses on the driver's allure, distilled into an extra compact and low cost package than the bigger 4 series. A vast alternative of engines presents any combination of fuel economy and power you might waiting for, with the bold and brilliant BMW M2 on the top of the range boasting 365bhp and aptly aggressive styling. It goes without articulating that the M2 is a blast to drive, but even the less individual items can put a wide smile on your face, whilst the 218d returns round 65mpg which is impressive for a sports car. It's a direct rival to the Audi TT above, and each will have to be driven if you are looking at this price range. The BMW can offer rear-wheel drive in its favour, despite the fact that the TT's interior has crushed the 2 series with appealing rustles. If you want 4-wheel powered models, go for BMW xDrive setup and it is an optional offer, but keep in mind this can most effectively be used on the 220d.
Audi R8 coupe
Like a legend, sitting at the top of the Audi range, it is a monster with the V10-engine. The R8 coupe is actually a show off for the company's modern-day technological advancement. You could surely experience that in the back of the wheel. Audi has offered a digital Cockpit bringing up significant records to allow you make the nice of a 532bhp engine shared with Lamborghini and which offers an excellent 602bhp in the R8 Plus model. Delivering more efficiency than most of us would ever hope to make use of; the R8 additionally has aerodynamically honed good looks that simply add to the attraction. What's as a whole is spectacular, simply how convenient the R8 is to make use of: it encourages the speed, it is a lightning bolt and you need to have a big heart to handle this ragging monster when it comes into action. However the combination of typical 4-wheel drive and the up-to-date security systems result in an awfully reassuring experience, so the power may also be simply put down on the road but it's a monster on the track. Great seats, pitch-perfect interior, great and some of the haunting engine notes around seal what's an appealing (if luxurious) outlook.
Porsche 718 Cayman coupe
The fabulous Porsche 911 has long presented in high quality top 10 sports car lists, however is in real chance of being surpassed by its younger brother, the 718 Cayman coupe. With its mid-fixed Porsche Cayman engine layout and immediate retorts, it practically begs you to take charge to test the abilities of its powerful ultra modern engine. Porsche has faced some difficulties in the past when it replaced the historic six-cylinder Boxster engine with the turbocharged four-cylinder engine layout. It was capable of offering of the 718 model. Actually, Porsche purists could have a legit even if a mild complaint logged, however the freedom to free up this monster of us can surprise at the fact sheet where the 718 Boxster is roughly as low-cost as a Vauxhall Insignia with a 1.8-litre petrol engine. Although its price is not up to a 911, the 718 Cayman continues to be luxurious, in particular in the event when you start ticking one of the dynamically long lists of options, but it fairly is among the very fine driver cars which you could purchase.
Audi TT coupe
The stylish coupe with shining bright and vivid colour schemes: its Audi TT coupe, a bold, brilliant, sharply styled but still affordable sports car. There is even more to the Audi TT Coupe than all these traits. The all new Audi TT has a bunch of engines that offer better performance and fuel economy than ever before. There are diesel engines to boast ultra high torques on a push of throttle and at the same time remain low on running costs. Driver's involvement is always a plus point in the Audi models and the TT poses a better precise and well-designed driver focused interior. The ultra-modern Virtual cockpit technology welcomes you aboard and keeps you in the center of thrill and action. For the ultimate fuel economies there is an ultra-model base on diesel fuel. In the TT model lineup, if you have very deep pockets and looking for a tiny super car then go for the TT RS, it offers around 400bhp. Or you might go for an in between option, a punchy Audi TT 2.0 litre petrol engine. Audi added up Quattro technology on all its TT models so don't need to worry about the all-wheel drive but it will add a 1500 quid to your total price. The 12.3 inch central console display replaces the dials and buttons. It also offers sat nav technology.