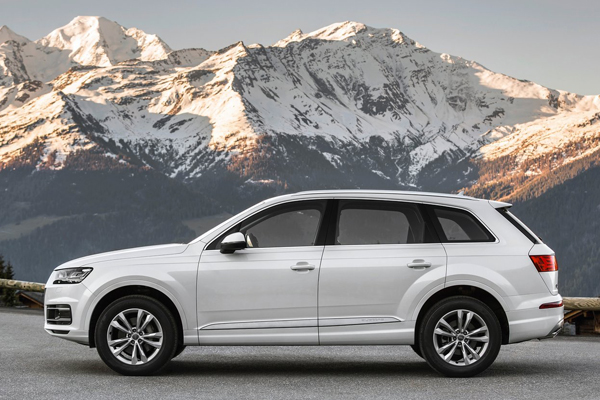 Audi Q7 engines include one diesel and other hybrid option for reduced carbon emission
Upscale lavish SUVs are very much in demand now a day and they have been claiming the share of the cars of this stature. Audi was among the very first to offer four-wheel drive but quite late in introducing an SUV. The second generation of the vehicle is very much similar in body style and design so off-road ability is very much there with plush interior settings. But in real time it is much more a superb automobile for highways. There is seven seats and cabin is practically built to serve better all the occupants of these seats. Audi Q7 SUV engines include one diesel and other hybrid option for reduced carbon emission and less tax for being on road. The most powerful is V8 and this makes it the swiftest of the seven-seat vehicles. It has been very challenging for the rivals in the class and keeps raising the bar by introducing modern features in every new model. The old Q7 reconditioned engines are purchased because of their performance excellence which does not diminish even after years of use. The sellers of these engines also offer fitting of the same to your automobiles.
3.0-Litre V6 Diesel Power Producer
The range of engines kicks off with 3.0-Litre V6 diesel power producer
and even this does not lack required acceleration for this big car. It is capable of 268bhp and competitively priced to appeal to more buyers of the segment. It shows exuberance particularly at low revs so you would find it a punchy one.
When you get to the driving position in this car you would feel it extremely powerful so does not need to push the pedal hard while driving it within the city. Gearbox with eight-speed transmissions is automatic and standard with all the engines. It is sleek and never hinder in way of acceleration or delay it. On small roads, its suspension is bit firm but on big roads, it remains smooth unless coming across a sharp and bigger bump. Optional air suspension is there to make comfort level even better than a standard one. With this addition, the car becomes the best in class and beats the rest.
Fuel consumption is also kept quite in control
On difficult greasy tracks, it gives you the best with reliable grip and four-wheel ability but not placed as high as rivals with sporty editions. Refinement of the base level engine is quite good and only in chilling winter time, it gives out a clatter when starts but even then this unwanted sound fades out as it gets to life properly. Otherwise, you will have a very refined engine under the bonnet that produces some noise only once accelerated really hard. As there is no manual gearbox option and the available automatic one is very smooth in shifting from up to down and down to up. Fuel consumption is also kept quite in control as the engine has been designed to keep running cost low.
Seat adjustment is to get the most suitable position to drive
Driver seat is fully electronic adjustable so it is fit for all people as they can get to their ideal position.
And if you want it to memorize your seat adjustment then you have to pay more and purchase this facility. Steering wheel, brake and speed pedal have been placed in such a manner that everyone thinks the alignment has been done for himself. Controls on the dashboard are placed intelligently so you do not need to stretch much to reach them. There are one FTF 7.0 inches screen and the other bigger digital panel of more than twelve inches for satellite navigation. So it is an upscale big car with fun to drive surety.