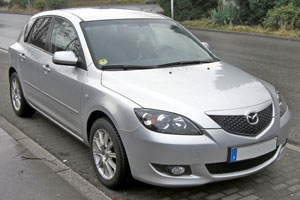 With powerful engine and luxurious cabin, Mazda 3 is nothing less than a perfect car
The Mazda 3 hatchback is one of the most popular family hatchbacks in the world. Its distinctive look and sleek look along with its impressive performance are additional points that attract the audience.
The sleek and wide-body structure is excellent for a family who travels frequently by motor. The new Mazda 3 hatchback is a car with some key features; Make it a car not only for the UK but also for the world. From its attractive exterior to its best interior, it is a feature car.
Diesel engines are only two but are smooth and quiet in performance
The diesel engines of the Mazda 3 hatchback start with a 1.5-litre Skyactive diesel unit. It can deliver 103bhp and 199lb / ft of torque. In terms of fuel consumption, it is both functional and economical. It takes 10.6 seconds to reach 0–62 m / h at 115 m / h.
The fuel of this four-cylinder SkyActive diesel unit averages 74 m / g, as well as 99 g / km co2 emissions. Efficient performance of the diesel engine under the bonnet of a large vehicle such as the Mazda 3 hatchback. It has a standard six-speed manual gearbox and front-wheel drive.
The second diesel engine produces 2.2-litre 147 bhp and 280 lb/ft of torque. This engine is more powerful than the previous 1.5-litre Skyactive version. It takes 7.8 seconds to reach 0-62m / h with a top speed of 130m / h. The fuel is impressive with an average of 68m / g as well as 107g / km COG emissions. These facts and figures were collected when the engine was fitted with a six-speed manual gearbox and front-wheel drive mechanism.
An automatic mechanism is available with a Mazda 3 six-speed automatic gearbox and front-wheel drive system. This combination is faster in performance. It takes 9.4 seconds to reach maximum speed from 0-62 m / h to 125 m / h. The fuel average of this mechanical combination is not as good as the manual combination we have but is reasonable with slightly higher Co2 emissions of 127g / km with 58m / g.
The Mazda 3 hatchback has excellent handling and smooth driving experience
The performance of the Mazda 3 hatchback is no doubt the hallmark charm of the company. Standards of driving and handling provide a comfortable and convenient journey. In a family hatchback vehicle, the Mazda 3 is a good choice due to its sound performance.
Its balanced body style gives you a great driving experience on the motorway with your family. Its handling and stability are also impressive due to the wide pivot and flat body structure. Its diesel engines are as quiet and smooth in performance as its petrol engines.
The overall performance of this hatchback is very great and economical compared to other great hatchbacks in the market. Auto and manual transmissions are equally smooth and quiet in operation. The fuel consumption of the auto transmission is a bit high, but it gives you a comfortable ride without changing gears while driving.
The front-wheel power transmission line gives a strong grip during fast driving. While in your bad time, if you are looking for Mazda 3 replacement engines for sale, you can easily get it from any reliable engine dealer in low rates.
The Mazda 3 hatchback includes thrifty and economical diesel engines and petrol engines
The Mazda 3 hatchback is a large vehicle that has a lot of features. Its power train is very reasonable with efficient and economical diesel engines, works reasonably well and its petrol engines are also not up to par in performance and fuel consumption.
With efficient petrol engines, the Mazda 3 hatchback performs well and offers a better driving experience. Under the large, wide and shiny bonnet two good diesel engines work well with good fuel. All engines operate efficiently and the fuel economy averages more than 50 m / g.
The interior is nice and pretty
This is a smart and well-made family hatchback. Its interior is very clean and built with good and useful features and equipment. Its dashboard is packed with great features that compete well with its rivals. All buttons and systems are easy to read and easy to use.
Everything is fitted to this family hatchback with standard controls and systems. The infotainment system is the latest technology. The seating arrangement is good with good adjustment. The steering wheel can be adjusted up and down to provide the best position for driving.
Security and reliability
The Mazda 3 hatchback is one of the most reliable and durable family hatchbacks due to its reliable body structure and safety kits used to prevent any bad incident in this family hatchback. The standard features are fitted with exceptional quality. It achieved five stars from the Euro NCAP rating. Its reliability and durability are also not questionable.
Practicality and boot space are also appropriate
The Mazda 3 hatchback with 350-litres offers good and reasonable boot space, so you can get 1360-litres of storage space as the rear seats can be folded. Inside are plenty of useful cube holes and pockets. The seats are in good condition and provide a comfortable seating experience. The front and back have a lot of head and legs.