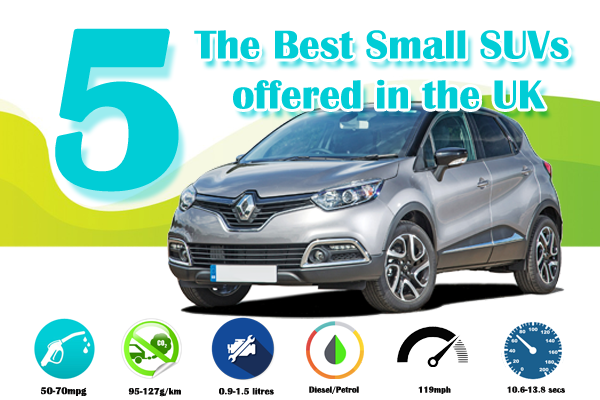 Small SUVs are now trending in the UK but it is hard to select one, let we help you with five the best SUVs offered in the UK
Before the start of this century, there was not even a concept of the term 'SUV' and people were unaware of these kinds of vehicles. There were several options available in the market, such as, if someone needs a big off-roader with a powerful diesel engine, they opt for a Rangie or Landie model, for family or executive use, there were saloons and for personal use, you were able to buy a supermini or a hatchback in the UK. But in the past decade, the entire philosophy of the motoring has been changed due to the existence of an SUV. A new kind of vehicle will all the features packed into one car.  It is Perhaps essentially the most awesome part of the market is what we call a small SUV, usually known as a crossover. It is the mixture of all excellent rugged styling, sensible interiors and a raised driving position with the fuel economy of a supermini or hatchback. If you have made your mind to buy one but looking for better options in the UK. There are the various alternative to opt for your next SUV that you would be able to purchase in the UK.
5 – Renault Captur
Renault Captur crossover is a sister vehicle to the Nissan Juke, however, thanks to higher practicality, the Renault Captur gets the nod from us. It's a light-weight car that doesn't want giant power to push it down the road, this means that you could expect 50mpg of fuel economy from any of the Renault engines offered in the Captur Small SUV. The Captur is provided with four engines where two petrol and two diesel engine are on sale, all of which are best on fuel economy, partly due to the use of turbocharging. The entry-level engine is an 89bhp 898cc or 0.9-litre petrol, which will get the Captur from 0-62mph in 13.1 seconds, emits 114g/km of CO2 while returning the fuel economy of just over 55 miles per gallon.
The extra robust petrol is a 1.2-litre engine generates 118bhp, which is most effectively returns 4 mpg extra than the diesel engine, yet conveys the Captur with extra useable performance, as evidenced by means of its zero-62mph time of 9.9 seconds.
The diesel engines are each 1.5-litre engines in different power outputs, one with 89bhp and the other with 108bhp. Each engine is exclusively low on CO2 emissions. Fuel economy figures are 78.5 and 76.3mpg respectively. At the same time performance is matchable with the 89bhp engine and enough with the 108bhp, which takes eleven seconds to do 0 to 62 miles per hour.
4- Skoda Yeti
The Skoda Yeti is the oldest car on this record, however, it's nonetheless one of the UK's pleasant small SUVs. That's because of exclusively low running costs and hugely spectacular practicality. The boxy styling shows its boot size that it is giant, whilst every rear seat can individually slide back and forth or be eliminated completely.
A pair of petrol engines and diesel engines are offered. There is a 1.2-litre turbocharged petrol engine with 108bhp and a 1.4-litre with 148bhp. The much less powerful engine pushes the car from 0-62mph in 10.7 seconds while delivering the fuel economy of 52mpg, however, the 1.4-litre engine drops that point to just under 9 seconds with a 45mpg. Both engines are relatively high on carbon emissions from 128g/km and 147g/km respectively. We assume the diesel engines to be a more standard alternative. Both are 2.0-litre and they usually come with two power variations from 108 or 148bhp. The latter engine can be handiest with all-wheel drive, however, that you may have it in different Yeti models offered in the UK.
3- Peugeot 2008
Apart from its fairly low buying price, the Peugeot 2008 has an excessively excellent, fashionable and classy interior that appears a long way more expensive than it in reality is. That doesn't mean it shines far from being convincing, though. There's a lot of comfort and ease inside for 4 or 5 adults. Most technological gadgets include smartphone connectivity, together with Apple CarPlay and Android Auto, at the same time offered on the extra costly versions and these gadgets characteristic grip control system, a process that uses electronics to make stronger grip in slippery stipulations. There's a 1.2-litre petrol engine or a 1.6-litre diesel, each of that are to be had with three different power outputs. They are all active, even become more powerful and practical when equipped with Peugeot S&S system. It is automatic vehicle start / stop system. The 2008 comes with either a 5 or 6-speed gearboxes, despite the fact that the entry-level 1.2-litre PureTech 82 petrol can be bought with ETG automatic transmission from Peugeot.
2- Honda HR-V
The Honda HR-V is an elegant and really roomy crossover with comfy features and is offered with plenty of equipment, too. The new HR-V conquers a designated situation in this subject, although. It's tiny SUV on the outside than the fashionable Nissan Qashqai that means it goes up in opposition to smaller crossovers just like the Renault Captur, Mazda CX-3 and Peugeot 2008, however, it clearly has a larger interior than the Qashqai, so it has competitors abundantly.
Kind-sensible, the HR-V is off to a decent jump. Of course, it appears very practical, but we think it's a handsome-looking car with a slanted roofline, bold pleats and concealed rear door levers that mask the actual fact of having five doors. There's additionally a 1.5-litre petrol engine on hand with a CVT gearbox. We'd stop the CVT for the reason that it makes the HR-V consider just a little gutless, plus it's noisy.
1-Audi Q2
Audi has a great SUV range, but the Q2 sits directly under the Audi Q3. It competes the Nissan Juke and Mazda CX-3 as well as the more equipped Peugeot 2008, cost-effective Renault Captur and sought-after MINI Countryman. Apart from all these models, the Q2 presents a classy interior, luxury looks, a comfy riding experience and an undeniable presence on the road, all features neatly packaged in a small and sleek SUV crossover body of the Q2. The Q2 starts at around £22,000, with an efficient engine line-up firstly including a 1.4 -litre petrol and a 114bhp, 1.6-litre diesel, with three-cylinder turbocharged 1.0-litre engine and 148bhp, 2.0 -litre diesel will join a bit later. Audi Quattro technology from four-wheel-drive process will probably be offered with the 2.0-litre diesel, at the same time the 1.4-litre petrol is anticipated to be contracted this choice later on. A 2.0-litre petrol engine with regular all wheel drive will follow in 2017.