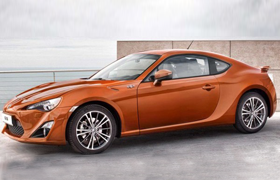 Who's Grandpa of GT86? MR2, Celica or AE 86
 Toyota finally revealed price of much touted GT86, basic model with manual transmission is priced at £24,995 and automatic one will set you back £26,495. If you want one then you can preorder on Toyota.co.uk. But that's not the hot news, currently internet is buzzing over the possible predecessor of the new kid on the block.People might point at AE86 as the most closest and legitimate predecessor, since it was also front engine and rear wheel drive, but there are other contenders that ask for a closer look.
Let's start with MR2
Stylistically both look futuristic, but MR2 was essentially a mid engine rear wheel drive car, with emphasis on lightweight chassis and agility rather on brute power. GT86 is front engine rear wheel drive sports car, also emphasizing on light weight design and nimble handling rather than straight line speed. So both share same philosophy but differ greatly in application of that philosophy. Moreover MR2 engines were naturally aspirated straight fours, most were from a family of Toyota engines. GT86's engine is also a naturally aspired straight four, but its 2.0 litre U series engine is based on Subaru Boxer engine.
Moving on to Celica and skipping Supra
Let's face it, what Toyota achieved with Supra was exceptional, besides Supra was deemed to be a super car rather an economical sports car. So moving on to Celica who bares more resemblance to GT86, not just in looks and engine layout but also in philosophy; both do appear to have same pedigree.
Now the iconic AE86
GT86 and AE86, even the names match and so does Toyota's positioning of GT86 on its official site.AE86 also shared same design philosophy and engine layout as Celica and GT86.
So who's the predecessor of GT86?
It appears like Celica was discontinued to make room for GT86 and we all know Celica was inspired from AE86, both AE86 and MR2 shared same philosophy, so it appears as if Toyota has combined the core essence of all of its previous creations in GT86. In that regard GT86 is in a class of its own and might initiate a new generation of sports car.