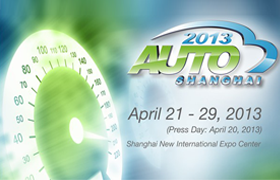 Shanghai Motor Show is gaining importance with each and every passing year. It is the home show for China's automotive industry and the global automotive industry is also using this event to launch their new models, reflecting the significance of Chinese automotive market. Shanghai motor show 2013 is underway with the slogan of "innovation for the better life". Prior to the china automotive sector, it is an icon to demonstrate the focus of global industry on modern technologies, innovation and environmental protection development.
Global automotive giants like Audi, Lexus, BMW, Ford, Citroen, Skoda, Volkswagen, Honda and Toyota are attending the show with their new models.
Audi Audi is looking to expand its SUV range and they are introducing a SUV  bigger than Q7 which can be called as a Q8. It would be the combination of Range Rover Sport style and a luxurious interior.
BMW is introducing the X4 which is a new innovation in the X-Series of BMW. It is ready to be one of the smart handling and controlling cars by the manufacturer. This SUV is due on sale early next year.
Citroen The new Citroen C-Elysee has been introduced by Citroen; it is a joint venture production with the PSA-Dongfeng china. It is mechanically identical to the Peugeo 301 and based on 20 years old Citroen ZX.
Ford Ford Escort is making its way back into the market after 1998; some of its features are designed by Australian designers. New Ford escort is a combination of features like distinct design, modern automation, fuel economy, safety and interior recreation.
Honda has unwrapped the next generation "concept M" previewing the new-value MPV at the exhibition. It is designed at the research and development centre in Japan and it would be in market in 2015. Concept M has the attributes of a passenger car along with comfort and spacious cabin
Nissan The Japanese automaker Nissan has introduced an all new "Friend-Me" concept in the show. The magic is hidden in the cabin of the car where four separate seats share the same technology, all the passengers have access to the information such as music, speed, navigation and entertainment.
Toyota A flood of new models by Toyota has been introduced at this exhibition. A six seater hybrid concept has unveiled, "it is a china only production car but it would be global soon" says Toyota.