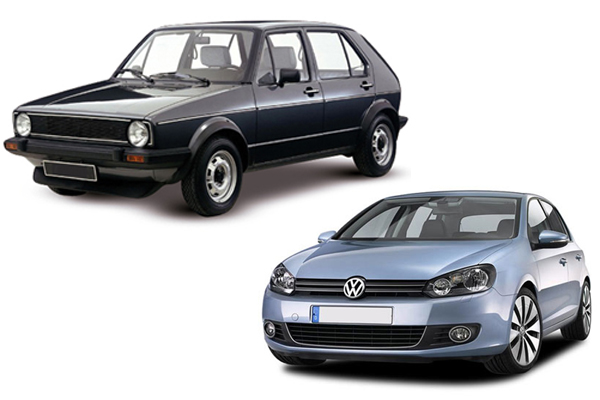 Forty Years Now and Volkswagen Golf Stands the Test of Time
Volkswagen is pushing the boats out for the 40th birthday of its most flourishing and successful European car of the century. Yes you are right; it is the Golf. A world champion and pioneer in technological progress. More than 30 million Golfs have been sold, from its birth to the seventh generation, the Golf has always been a pioneer of technological evolution and performed as an experimental platform for the instigation of new and modern technologies.
It was the spring of 1974, when the first Golf rolled down the assembly line in Wolfsburg and now it is in its seventh generation and celebrating the birthday of its grand-grandparents from MK-I platform. The present generation is very successful and the name Golf has become part of hotly contested compact segment. Sales are growing gradually as it has been a simple but sophisticated people mover for over 40 years.
The Golf has all those firing techniques that helped it to gain prominence in the market, such as turbocharged engines, direct injection fuel delivery, electric and plug-in Hybrid versions. There are several other technologies in use to make the Golf a proud people carrier with utmost safety and reliability, such as, an anti lock braking system, ESC, XDS, 4MOTION technology, Adaptive Cruise Control System, City Emergency Braking system to dominate into busy down town streets. It is not the end of the story of Golf because it has sky high motives to be leader in the class. Prior to all these technologies, It is also equipped with automatic climate control system, dynamic sound system, touch screen for multimedia, LED headlamps and a long list of trims to delight its users. GTI, GTD and GTE are the most important technologies and trends in the Golf line-up.
Golf was born on the Mk I platform in Wolfsburg on 29 March 1974, and now it is in Mk VII incarnation since 4th of September 2012. The new Golf is almost 100kg lighter than its earlier versions, 23% improved efficiency and BlueMotion technologies for better fuel economies of up to 88.3 mpg on average cycle and very controlled carbon emissions. It is the most successful Golf ever built by Volkswagen, and Golf's development will continue in future as it has been evolving over the past 40 years.