Engines-Buy Engines-Used Engine for Sale-Reconditioned Engines-Gearboxes-Japanese Car Engines-Remanufactured Engines-Rebuilt-New Engines-Refurbished-Cheap Engines-Diesel Engines Rebuild
Ideal Engines Blog - Discuss Engine Issues With Experts
Volkswagen Golf GTI Design Vision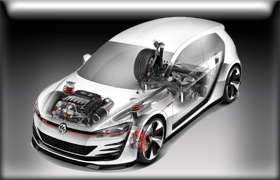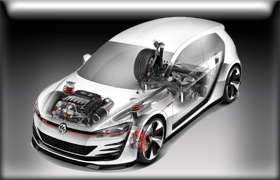 Volkswagen Golf GTI Design Vision launched at LA auto Show 2013
Often driving a concept car renders obvious dynamic imperfections but the Volkswagen Design Vision GTI sounds
excellent and goes just swift as its stare imply. The 3.0-litre V6 Volkswagen engine delivers performance beyond beliefs, it will be used to power a series of future production cars by VW. There isn't even a single concept that looks quite as good as, "the GTI Concept".
After wowing fans at Worthersee, the GTI Design Vision is on show at the Los Angeles Auto Show last week, looking just as fine as it did in Germany. It is an all-wheel-drive hot hatch with a twin-turbocharged 3.0-liter V-6 capable of generating 503hp of power and 413 lb-ft of torque, which shoots up the GTI from zero to 62 mph in just 3.9 seconds, beating some sports cars . When you put your foot down, it responds equally hard and pushes the driver into the seats. While it's swift and leads the car up to the top speed of 186mph, the GTI Design Vision is not hard on environment either, with dual three-way catalytic converters installed to facilitate the engine to get better emissions. It has 169g/km emissions of CO2 while it
returns the fuel economy of 28mpg on a combined drive cycle. The twin turbo engine is mated with a six speeds automatic transmission with all wheel drive mechanism. The steering wheel is equipped with gearshift paddles for DSG gearbox and button that allows the driver to toggle between three driving modes, 'Street', 'Sport' and 'Track' which gradually strengthen the damping and give a boost to the engine performance.
The Volkswagen Golf GTI Design Vision concept is equipped with 20-inch wheels and stretched out C-pillars, Inside the cabin the it has Alcantara and Napa leather carbon fibre  trims and some , such as a display screen that can show lap times and a detailed map of the track. The GTI Design Vision concept might never see the production line. But the question is still an unsolved mystery for the experts that "Could this new Volkswagen Golf Design Vision GTI be the ultimate hot hatch?" or is it just built to triumph VW's diehard enthusiasts at the Worthersee tuning show.