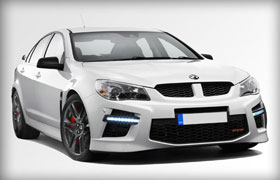 Vauxhall Unleashes a Monster – The New VXR8 GTS
Vauxhall's is going to reveal its all new VXR8 GTS at the Autosport international show in January.  It will produce 576bhp from its supercharged 6.2-litre V8 engine which makes it over do the BMW M5, Jaguar XFR-S and Mercedes-Benz E63 AMG. The engine comes from GM's LSA unit also used the latest Chevrolet Camaro ZL1. The output from Vauxhall VXR8 GTS is 24bhp more than a M5, 27bhp more than the E63 AMG and 34bhp more than the XFR.
Moreover if you look at the price tag, £54,999, the VXR8 GTS also undercuts those cars. Vauxhall says it is the least expensive car on the market that gives more than 500bhp. Torque has also increased to 545lb ft, up by 140lb ft. All these changes are due to addition of supercharger as well as upgraded exhaust system, improved cooling and air intake systems. It is mated with a six-speed manual transmission where as a six-speed automatic is optional.
The new VXR8 GTS can go from 0-60mph in 4.2 seconds, with a limited top speed of 155mph which means it is appreciably faster than the outgoing GTS. You can choose between three modes, Touring, Sport and Track. A dial is located behind the gearlever which allows the driver to control its different electronic systems. This dial controls traction control, exhaust sound, ESC, launch control, torque vectoring and electric power steering. All these changes ''deliver greater body control, sharper handling and a significantly more pliant ride quality'' than its predecessor claims Vauxhall.
It also hosts safety tech such as a Forward Collision Alert system. The facelift for the new VXR8 GTS also has front end tweaks which make the car look wider. The interior is much improved which include, a new centre console with integrated infotainment system, leather sports seats, new switchgear and a new instrument binnacle.