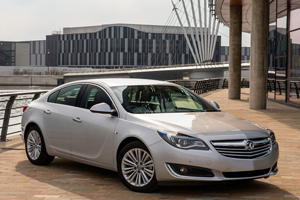 Practicality and size and above all an enticing price
There are many sedans out there offering almost the same features as this one but then why one should buy it? The reason remains a simple one. There is everything present in this one but in a better price range than the top ones BMW 3 series and Mercedes C-Class and then the Skoda Superb.
You get an exterior that has been stylized as upmarket, there is all the sophistication and elegance present which proves your choice to be right. Moving towards the interior there is quality, space and executive feel. Then comes the kit installed with a sound number of tools.
This is a complete package for a buyer who wants the family to be comfortable but with grace. The rivals may offer more than this but the thing is that your pocket is happy along with a car to be appreciated. Its good to drive trait further gives a strong point to own one.
There may be problems at the performance side in the lower powered engines but for Insignia Grand Sport the case is different as it proves itself well capable of competing with close competitors.
A vast range of engines to choose
Now, this depends on how much you want to spend and what kind of a person you are. All engines have some flare but it targets the personality of the buyer. You want a stable car with adequate performance then the lower powered engines will also do the job for you.
But then everyone is not the same and there are those after a powerful engine and Insignia happily offers you one. To start with the petrol engine the lowest one is the 1.5-litre having 138 bhp. It needs effort from the driver to reach the desired speed.
For better efficiency, there is the second version of this engine which has 163 bhp output a good choice for motorway cruising. Topper over here is the Insignia 2.0-litre diesel engine with a brisk takeoff and good speed maintained.
Coming to the diesel range it starts from the 1.6-litre engine having 108 bhp and 134 bhp power generations. Moving up get you to the 2.0-litre with 168 bhp and the twin-turbo version giving 207 bhp.
Petrol ones are supposed to be smooth and noiseless but over her, the diesel engines also come with the same trait and economy added. Vauxhall Insignia engines replacement suits your pocket but reliability has to be checked before the purchase.
Vauxhall Insignia engines give you a choice to buy which fits the need and pocket. It is convenient to own with Vauxhall engines supply and fitting service whenever there is an engine change required.
A tip for good ride comfort
You are going to have a good experience inside an Insignia but you have to stick with the company fitted sized wheels. Going for the bigger ones just to enhance style will make you suffer from comfort.
This vehicle loves to be on long journeys; motorways are the best roads for it. You get nice overtaking power and blending bumps under the wheels. The Tour mode gives you the highest comfort Insignia gives even on bad surfaces.
Sport mode gives more control for speedy rides but luxury remains. Above these two is the Grand Sport which is the best when you want speed but with the highest comfort level.
The ride remains calm and quiet even at high speeds even in the lowest petrol engine. Grand Sport gives really good stability when on a twisty road and this large car behaves well with it.
It is the interior that attracts more
The latest car is made longer and wider than the previous one so this means there is more space inside. Good news is that this one has a good amount of storage pockets front and rear having space even for water bottles and snacks etc.
A large leg and headroom are waiting for you and there will be no problem for the tall ones. Getting in may create some problem due to a change in the slop but it will fade away with the lavishness of the cabin.
You have a lot of usability and loading area and it increases to 490 litres when seats are folded. These are the perfect figures families look for when they have to travel.