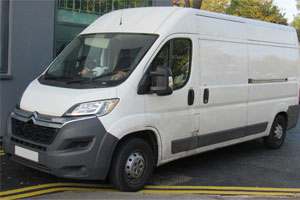 With a big load length price of the vehicle is quite low and this helps
Commercial vans' utility is a real strong point for people for purchasing one from this class of vehicles. Citroen Relay has three different wheelbases and heights. Combination of these variations let you select from numerous volume capacities. In total, you get 43 different Citroen Relay vans and this number includes panel van, crew cab, chassis cab, drop-side, Luton van and tip-up truck.
Engines of these vans are nice pullers. They pull fully loaded vans smoothly and do not produce unwanted noise. Citroen second hand engines for sale have their demand in the United Kingdom and other parts of Europe. Other than strong pulling ability you also get nice fuel economy. Citroen Relay Drop-side truck has a huge capacity of 3.5 tons.
One diesel engine with two power variants is offered so you can choose from 100bhp or 120bhp output of 2.2 litres HDi common rail unit. The other choice is 3.0 litre to produce 160bhp which is plenty. More powerful of 2.2 litres HDi variant produces 236lb-ft torque. With extended load length, the price of the vehicle is quite low and this helps it to be a fleet van.
Mercedes Sprinter drop-side model is almost of a double price. Anyone can easily be impressed by such a price difference. Ride quality and material used to build Sprinter is excellent but the price of a Sprinter is equalled to two Relay vans. Fuel average and carbon emission figures are reasonable too so find a lot more reasons to own this van.
Citroen Luton Vans are Made Better
Citroen Relay Luton van has good volume capacity and you also get additional storage area. The extended storage area has been created over the driver cabin. It gives you extra space. You can have it in two different volume capacities, either 16 cubic meters or 20 cubic meters.
Rectangle load space is good to put heavy items easily. Citroen Relay engines UK takes care of your need for used van engines. Installation facility from suppliers is appreciated as buyers get the needed service. No wheel arches in load bay make floor area thoroughly flat without any kind of compulsory intrusion.
It is ideal for such loads which are best transported in the enclosed load area. Aerodynamic pod over front cabin let this van move with less air resistance. Fuel consumption is also lowered with this deft body design touch so Citroen has done great work for Relay.
Load bay has been constructed with galvanized steel and its rectangular shape allows maximum loading. Lightweight body panel option is available and this will increase payload capacity. With this, you also get a less weighty framework. To keep front cabin occupants safe Citroen has attached a strip to the bulkhead.
Load safety in load bay has been achieved through strips and rails. It is really nice to see all these arrangements for the safety of people driving or riding Relay. With the change of position of load safety strips and rails better safety is now possible. Plywood is a lightweight material and its use for the flooring of load bay is good. Access to load bay is easy and handle lock of load bay also present.
The popularity of Relay vans is the result of
LED light of Relay uses little energy and illuminates more. Plastic wheel arches and mud flaps are standard for all vans of the range. Marker lights on outer body and air conditioner for the cabin are also standard. You can carry your travel necessities easily as you have many storage places.
Strength of engine to pull smoothly and nicely build load bay is not enough practicality also focused by Citroen. When you look at optional features you can get tail lift capacity of 500 kg and some additional load safety arrangements. Load lashing rings are also part of these additional arrangements.
To do better on slippery tracks you have grip control and traction control features. These also help in hilly areas. These additions in Relay are good for the driver and enhance the performance of Relay on muddy, snowy and sandy terrains. Passenger comfort is also enhanced.
Citroen covers all different areas of buyers' interests to produce a nice commercial vehicle. The popularity of Relay vans is the result of this endeavour. Citroen engines fitting services in different parts of Europe are to give you a trustworthy facility for different Relay power units.
This warranty covers complete van
The cabin of Relay can be your office with amenities like writing panel, armrest, two USB ports which can be used to recharge devices and numerous storage places. On extendible writing panel purchase, orders can be noted and it is also suitable for smartphone and tablet.
Driver's seat is adjustable in a number of ways and this facility is for all models. Luton is up to European standards so you get three years or one hundred thousand miles warranty, whichever comes first. This warranty covers complete van so buyers have much contended. Fuel economy is near to 50mpg and service interval has been stretched to two years or thirty thousand miles, whichever comes first so you do not need to visit service centres frequently. The front bumper has steps to get on and clean windscreen without any difficulty. Tyres are easily available and cheap to replace so maintenance of Relay vans is not costly.