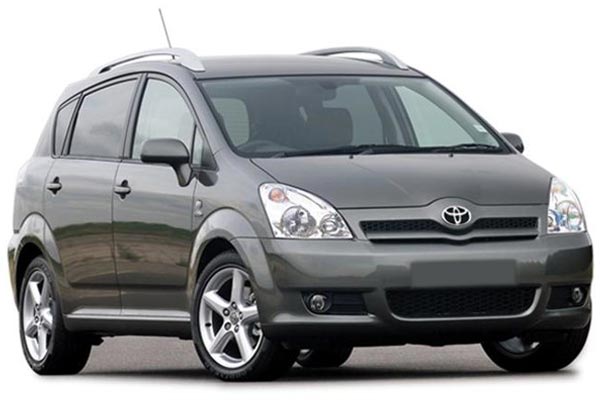 Strong reputation of the car maker is helping the car to be considered
In small MPV segment Toyota is not a known car producer but Toyota Corolla Verso is very much there due to excellent features. It is an alternative compact seven seat option in presence of some great rivals. You can manage this smart vehicle quite easily and in the same way parking is not a problem.
Reputation of the car maker is another big advantage for the buyers and that is why reliability is quite high. Furthermore guarantee of five years is to make it a good choice for the buyers. The car may not seem much appealing being dull but it has been serving its purpose so secondary things can be ignored.
The cheapest in the range of models offers little room for third row so only small children can travel in a relaxed posture. Three individual seats of middle row are also narrow but riders can enjoy liberty of separation and decent legroom too.
Floor is flat and front row passengers have good headroom and projected area to rest elbow there. It is airy and offers decent room to all riders. The cabin has some storage places as well as a decent boot size.
Toyota petrol engines and one diesel motor
Engine range of Toyota Verso comprises of two petrol and one diesel engine sourced from BMW. It begins with a 1.6 litre petrol engine producing 130bhp power that seems enough to pull fully occupied vehicle of this size. Next option with same fuel is 1.8 litre motor with total power of 145bhp and surely adds agility in driving.
The only diesel engine is 1.6 litre and is capable of 108bhp and 199lb torque that is to shift big loads with ease. Refinement is also decent and excellent economy makes it pick of the engines.
Carbon emission per kilometer is just under the limit set by the authorities so acceptable throughout Europe. Gearbox is manual with six speed transmissions that enhance driving experience.
Engine refinement has improved and no unwanted noises in cabin
In 2013 it received a facelift that provides updated exterior and improved interior to add comfort. Toyota engine has also become quieter that has rightly been appreciated a lot. In fact more efficient sound dampening between the machine and cabin has helped to achieve this.
Smart door mirrors has reduced wind noise at high speed on motorway that in previously made cabin unwontedly noisy. It has become more loveable because of being leaner, comfortable and quieter. Steering is good to drive it but addition of little bit more weight can make it precise.
Material used for interior should have been better
Dashboard material should have been improved so that overall engineering excellence can be matched. But controls and buttons are well spread out so person putting finger on them doesn't get confused.
The same is true for touch-screen in middle of it with bigger buttons and responsiveness. Safety of the occupants is quite satisfactory particularly of adult riders. Though crash test was carried out many years ago before the facelift but structure is very much similar.