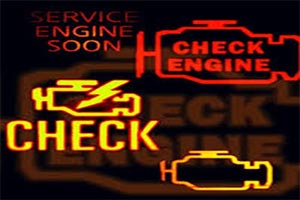 Modern cars are equipped with sophisticated diagnostic systems that you can use to solve many problems cheaply — as long as you have the right tools. By using an OBD2 scanner, you can read all of the diagnostic information your car outputs, reset your check engine light, and more. These scanners give you the ability to perform cheap DIY fixes and make informed decisions at the mechanic. Best of all, they're incredibly inexpensive.
OBD2 (also called OBD-II) stands for "OnBoard Diagnostics 2." It refers to a standard system that's been placed in virtually every car since 1996.
OBD2 systems use a network of internal sensors and computers to gather diagnostic information from your car while it runs. When this system detects an error, it turns on your check engine light. You can communicate with this system using a special serial port that's often found under your steering column.
What Do OBD2 Scanners Do?
An OBD2 scanner is a standalone device that plugs into your car's OBD2 serial port. These scanners interact with your car's diagnostic systems.
They can display sensor information in real time, view error codes stored within the OBD2 system, and even change some car=specific settings. OBD2 scanners can also clear error codes and reset your check engine light.
How Is This Information Helpful?
When an OBD2 scanner gives you an error code, it's giving you a vital piece of information about your vehicle. In 1996, you might have had to drive to a mechanic to find out what the error code meant. Now, however, you can simply turn to the internet and get a pretty good idea of what your car's exact problem is.
Not only can you de-mystify the information displayed on the scanner, you can also order cheap car parts and have them shipped directly to your home. While you probably don't want to replace your whole transmission yourself, many car problems can be easily fixed using a part that's less than $50 and tools you probably already have in your garage.
Even if you can't fix your car's problems yourself, and OBD2 scanner gives you lots of information that you can use. By using an error code and diagnostic information, you can narrow down your car problems to a few specific issues.
Once you know what these issues are, you can shop around and find the best mechanic for your car. You'll get much more accurate estimates and you'll be able to verify that each mechanic you talk to is on the same page. In many cases, this can save you quite a lot of money.
What Features Should I Look For In An OBD2 Scanner?
While the OBD2 format is pretty universal, car manufacturers often build in the ability to output extra data. Look for an OBD2 scanner that can read diagnostic information as well as manufacturer specific (P1 or higher) error codes. You'll also want to make sure your scanner can reset codes and turn off your check engine light.
Beyond that, one of the most important factors is readability. OBD2 scanners are small, handheld devices. Be sure to choose one with a clear screen that can display plenty of information. Ideally, you'll want a scanner that tells you what an error code means instead of just giving you a bunch of jibberish you'll have to look up on your own.
With that said, here are 5 of the best OBD2 scanners available today. All of these scanners work with almost every model of car produced after 1996. They'll all scan both manufacturer specific and generic error codes, reset your check engine light, and allow you to view "freeze frame" data that's saved by your car when your check engine light turns on.
This means that no matter which scanner you choose, you'll be able to figure out what's wrong with your car and take steps towards a solution yourself.
 The 5 Best OBD2 Scanners (as of 2017)
1. Innova 3100j
The Innova 3100j hits almost every feature you want in an OBD2 scan tool. It works with both basic codes and many manufacturer specific codes, allowing you to easily view and clear errors on a bright, colorful screen.
This tool provides brief descriptions of common codes, allowing you to get an idea about what's wrong with your car before you turn to the internet for more answers. Unlike some other OBD2 scan tools, this tool will pull ABS and airbag error codes from some (but not all) vehicles.
Notably, the 3100j is extremely durable. While some scanners won't hold up to rigorous outdoor use, this Innova is perfect for people who work with cars for a living. It's not quite as fully featured as some models, but the durability will more than make up for a few missing features.
But what does it lack? The 3100j will pull "freeze frame" diagnostic information from when your check engine light was turned on, but it won't display real-time data from all of your car's sensors. It's also missing full compatibility with non-engine codes from some European makes. Other than that, however, it's got everything you'd want in an OBD2 scanner.
2. AutoLink AL319
This Autel AutoLink is a simple, inexpensive OBD2 scan tool that gets the job done. It reads and clears both generic and manufacturer-specific codes, displaying results on a clear, bright LCD screen. Small enough to fit in your pocket, this scan tool will give you the ability to diagnose and fix many car problems without needing to talk to a mechanic.
One of the best things about the AutoLink is that it's incredibly easy to use. It combines a large screen and built-in speakers to guide you through the diagnostic information it retrieves. Even if you're not a technical person, you can use the simple buttons and color-coded lights to figure out what's wrong with your car. Autel has also helpfully provided multiple software patches that you can use to keep this device up-to-date with all of the latest cars.
Like the Innova above, this Autel can read "freeze frame" diagnostic data from when your check engine light was turned on. Also like the Innova, you're somewhat limited in the information you can view beyond that. Checking engine temps or fuel flow rates in real-time is somewhat beyond the scope of this device. Still, for something that can fit in your pants pocket, it's pretty powerful.
3. BlueDriver Bluetooth
Lemur Vehicle Monitors produces this unique OBD2 scan tool. Unlike the other options on this page, it doesn't come with a screen or buttons. Instead, it uses Bluetooth to communicate with an app on your phone or tablet. This enables you to use a familiar touchscreen interface and a high-definition display to view the data retrieved by this device.
This is a pretty big plus. Lemur has paired this scan tool with its own custom app. Called BlueDriver, this app pretty much blows the competition out of the water. You can view real-time diagnostic data on a snazzy interface, read and clear codes, and research the codes your car has provided within the app. It'll even generate printable "repair reports" that detail common causes and solutions for the exact error codes your car is giving. Best of all, this app is totally free for everyone who buys the scan tool itself.
If you don't mind pairing your scan tool with a phone, this Lemur scan tool is an excellent choice. If you're going to be sharing a scan tool with coworkers or employees at work, however, it might be best to go with something that doesn't require a paired app.
4. FOXWELL NT301
If you want to get as much data as possible out of your car, this FOXWELL NT301 OBD2 Scan Tool has you covered. It's a fully standalone device with a clear display and the capability to show diagnostic information in real time. If you'd like to view error codes, run advanced tests, or even look at sensor data as it's collected, this device is a brilliant choice.
While this FOXWELL has lots of advanced features, it's still got all of the basics covered. You can read and reset both manufacturer specific and basic error codes, clear your check engine light, and more.
FOXWELL continues to provide software support, meaning that you can keep this tool up to date with the latest, fanciest cars. Additionally, you can also hook it up to a computer to print a report or store a copy of the "freeze frame" data that was saved when your check engine light turned on. A three-year warranty rounds out the package, giving you confidence in your purchase.
As far as downsides go, the biggest one is the lack of clarity when it comes to displaying error codes. You can read what's written on the screen perfectly well, but you'll probably need to use a search engine to figure out what the codes themselves mean. Expect to spend a little bit of extra time on Google if you choose this scanner. Still, the live data modes make it totally worth it.
5. ANCEL AD310
While this ANCEL doesn't have the colorful LCD screen of the FOXWELL above, it's another great choice for people who want the ability to view live data. You can view sensor data in real time (as well as error codes and freeze-frame data) on a simple backlit display. The ANCEL AD310 can view and clear both generic and manufacturer specific codes for most vehicles manufactured after 1996.
Unlike the FOXWELL, however, the AD310 looks up your codes for you before it displays them. This means you'll get a brief, easy-to-understand explanation of what your codes mean along with a short string of letters and numbers you can plug into your favorite search engine. For most users, this brief description is incredibly helpful. It'll reduce the amount of time you spend tooling around on your computer or phone and allow you to focus on fixing your car.
If you don't mind a slightly less vibrant display, the AD310 is an outstanding scan tool for both home and professional use. The ability to view live data and look up what error codes mean makes it a great choice.
Which OBD2 Scanner Is Best For Home Use in 2017?
All of the devices on this page will fit the needs of most home users. Your basic workflow will involve plugging in a scanner, retrieving an error code, looking it up online, and then proceeding from there. If you just want to save money on turning off your check engine light, feel free to choose the cheapest option. You'll do just fine.
If you'd like a slightly more user-friendly experience, however, the Lemur Vehicle Monitors Bluetooth OBD2 scan tool is easier to use than the other options. By making use of a paired app on your phone, you gain access to a high-resolution touchscreen interface that offers more options, better visualization of data, and immediate internet access in the palm of your hand. If you'd like to get the smoothest experience when using your scan tool, the Lemur is a clear winner.
If you have a car lot, however, or you find yourself doing a lot of work on other people's cars, the Innova is probably the best choice. Not only is it easy to share with other people (since you don't have to sync it with a different phone), it also supports non-engine codes from some car makes. This allows you to use this car to fix airbag and brake problems as well as engine ones. If your airbag or ABS light is on, or you think you'll use your scan tool on lots of cars in the future, you'll probably want to choose the Innova.
No matter which scan tool you choose, however, you'll be able to get lots of valuable information from your car and save lots of money when it comes to fixing it. Armed with an OBD2 scanner, you'll have access to a new way of communicating with your car that will unlock the ability to perform basic fixes and make informed choices with your mechanic.
About the author
I'm Tim Miller, an automotive mechanic and blogger from Denver, Colorado. I'm the founder of obdadvisor.com, an automotive blog about OBD2 scan tools.
My fanpage is facebook.com/autozikcom.
I've had over 10 years experience in car repair and using OBD2 scanners.
Some of my review articles about car diagnostic tools can be found on my own website obdadvisor.com.