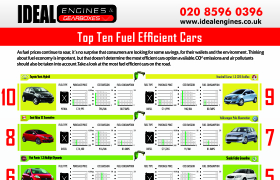 Fuel economy of the car engines is being considered as an important factor when buying a new car, thanks to the soaring fuel prices. Car manufacturers have responded to feed this market need by producing more fuel efficient cars and now there are many cars available in market that return more than 80mpg of economy. Another important factor is carbon emissions, as more and more people are becoming responsible enough to care for the environment (plus the greener the car is lesser will be the road tax you'd have to pay), the trend for choosing a greener car is being developed.
This infographic has the top ten most fuel efficient cars for sale in the UK. The carbon emissions, the fuel type of the engine plus how much will it cost to get your hands on one is also given. On the 10th position stands the Toyota Yaris Hybrid that returns 80.7mpg of fuel economy. The Toyota petrol engine powering the Yaris emits 79g/km of carbon and it will set you back £14,995.
Vauxhall is the only car manufacturer that has two cars which make in this top 10 list, Vauxhall Corsa 1.3 CDTi Ecoflex and Vauxhall Ampera (the most fuel efficient car in Britain). Corsa with 1.3 CDTi Ecoflex engine has a 80.7 mpg and carbon emissions of 94 g/km. It comes with a price tag of £14,990. The Ampera makes the top of list which gives an amazing 235 mpg of fuel economy (no wonder it is the most fuel economical car in the UK)  and emits 27 g/km of carbon. This is available for just £37,745, but given the savings on fuel and less carbon emissions it is worth all the money.
Other models included in the list are,
8. SEAT Ibiza SC Ecomotive
7. Volkswagen Polo Bluemotion
6. Fiat Punto 1.3 Multijet Dynamic
5. Skoda Fabia Greenline
4. Peugeot 208 1.4 eHDi EGC Access +
3. KIA Rio 1.1 CRDi 1 Ecodunamics
2. Chevrolet Volt