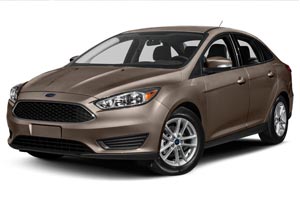 Buy an affordable family car at a low price
The Ford Focus is a good family hatchback with a high-performance engine and a roomy cabin. This car has a good reputation for keeping developing over the years. The sharp chassis is a strong point of the car, and you also get modern safety features. Higher trim levels are expensive and not affordable for many hatchback buyers.
A good family car is a competitively priced vehicle with a low running cost. Daily urban commuting demands compact size and agility. Sharp handling is also demanded by modern-day buyers. All these qualities are present in this family hatchback by Ford. In the age of crossovers and SUVs, people still desire good hatchback models like the new Ford Focus.
This car has been on the market for several years, and Ford invested in its progress to keep it among the top family hatchbacks in an affordable range. The latest generation of the car was launched in 2018, and the latest fourth-generation model offers a good base level model. Last year's facelift provided a new grill at the front and LED lights for the rear and front.
These changes are not conspicuous but are noticed by keen observers. With a sharp look in its fourth generation, the Ford Focus has greater appeal and its sharp handling makes it sportier while driving. Another area where the car has improved a lot is its safety specs.
Ford has added good safety features to meet high standards. Replacement Ford Focus engines for sale are in different conditions, so choose intelligently. Agility has been improved by reducing the weight of the new generation model. This car with a manual gearbox now weighs just 1325kg. You will feel the difference if you have already driven a third-generation Ford Focus.
The 1.0-litre Eco-Boost engine is available in the guise of a 123bhp
You can choose from a range of petrol and diesel units. Ford also added mild hybrid assistance to the Focus with a 48-volt battery. It provides energy to start the engine and also for the start-stop system. A lithium battery stores energy from braking and brings it to use later.
The 1.0-litre Eco-Boost engine is available in the guise of 123bhp or 153bhp. This assistance to the engine increases fuel economy and lowers carbon emissions. Thus, the benefit is great for the new model Ford Focus buyers. Above 47 mpg, the fuel average is good.
There is the option of a 1.0-litre petrol engine without this mild hybrid assistance and also a 1.5-litre diesel engine model. Presently more and more people want green cars so people think mild hybrid petrol engine cars are better than diesel. Buyers can choose from the number of suspensions as well.
Torsion beam setup is present in low powered engine models. Ford reconditioned engines are in perfect condition. With banana shaped springs this suspension helps the car to remain aligned with the turning wheels. Short and long arm setup is present in high powered models to keep ride quality high. Refinement is great with this setup and handling also improves.
This is why high-powered engine models' drive experience is better than low powered engine models. The estate model of Ford Focus has a different setup so you get a variety of choices. In the Estate suspension setup, dampers have been placed in a manner to improve boot area dimensions. This is the intelligent design of engineers.
Big infotainment system screen of 13.2 inches
The fourth-generation model of the car has a longer wheelbase than previous generation models. This additional length provides you with extra room for rear row passengers. Seats are not ideally comfortable but the generous knee area at back impresses occupants.
Boot space of 375 litres is almost identical to the best in the segment. This family car has lots of good features to be ranked highly. Different controls are offered through Ford apps that add to convenience while you are not close to the car. Driver assistances are present to enhance the driving experience and offer the right kind of aid to avoid accidents.
Ford app helps to find the car, and fuel level and lock it as well. Second hand Ford Focus engines for sale are fitted in cars after thorough inspection and guarantee of performance. The driver also gets information about hazards on the road, so very useful and handy knowledge is made available.
A big infotainment system screen of 13.2 inches is a nice attraction for the occupants, and its connectivity with iPhone and Android phones through Apple Car-Play and Android Auto gives you a premium feel. The layout is simple, and most controls are placed within easy reach of the driver. We commonly see Ford Focus on roads due to their really good performance.
Not only good driving dynamics but also a good comfort level
It is one of the best-selling cars in the UK, and this is why it is a common sight on UK roads. The first generation of the car was launched in 1998, and since then its popularity has been quite consistent. Neither is it exciting nor stylish, but it is a good car for many reasons. Under control body leaning, good road grip and quick direction change with precise steering make it good to drive. Ford Focus riders have been guaranteed not only good drive dynamics but also a good comfort level. Cabin quality has been improved through styling, but still lacks. It does not look cheap, though all the plastic is not shiny, which some rivals offer. This is a car for everyone, and you will find people of all ages praising the Ford Focus. These fans of the car experience something really good about the car.