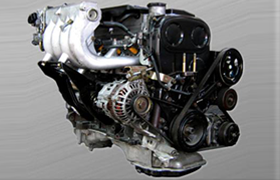 The biggest cost associated with owing and running a new car is certainly the depreciation. Yes the fuel isn't cheap, road tax can pile up and insurance premium keeps on rising, but depreciation will fall heaviest on your pocket. So if you want a cheap car, you need one that will keep hold of its residual value. In this list we will round up the 10 best new cars for residual value, from the Volkswagen up! to the new Range Rover.
Ranger Rover Engine 4.4 TD  V8 Vogue, 64.6% – Large SUV
When buying a used car desirability counts for a lot and when it comes to resale values the Range Rover's sheer must-have quality promises to make it hot property as a used car Why? Well its rarity will keep used prices high for a while to come and a host of A-list owners should guarantee long waiting lists for new models.

Audi Q5 Engine 2.0 TDI S line, 64.2% – Premium SUV
Audi is arguably the most fashionable executive brand around, and that has done wonders for its used prices which is, in turn, great news for new buyers. The Audi Q5 engine isn't the best one in the premium SUV stable but according to our experts, in Audi Q5 2.0 TDI engine S line trim it should resist depreciation better than all of its rivals.
Mercedes SLK 250 CDI 7G-Tronic, 62.3% – Roadster
It's no surprise to see prestige brands dominate here, as exclusivity and quality are crucial parts of the formula for beating depreciation. It's easy to see why, as the Mercedes has a folding hard-top that promises coupe-like refinement. Best of all, the 201bhp SLK 250 CDI engine and 7G-Tronic automatic gearbox deliver relaxed performance. The Mercedes SLK 250 CDI engine has a fuel consumption of 56.5mpg and CO2 emissions of only 132g/km.
MINI Cooper D Chili Pack, 60.6% – Premium Supermini
For years MINIs enjoyed the best resale values in the entire car market, making them very savvy investments for car-mad supermini buyers. By mixing stylish retro looks with entertaining handling and low running costs, the MINI brand has struck automotive gold and the MINI Cooper engine 1.6 L is a sure-fire hit.
Hyundai ix35 1.7 CRDi Style 2WD, 58.4% – Crossover
Cheap to buy, run and own, the Hyundai ix35 is the surprise inclusion in top 10, but Hyundai ix35 1.7 CRDi engine is here entirely on merit. If you are in the market for a tall-riding family crossover, the ix35 will lose less to depreciation than its more fashionable rivals. A residual value of nearly 60 per cent is not to be neglected, and there's more to the Hyundai than one healthy statistic.
Audi A5 Sportback 2.0 TDIe, 56.7% – Compact executive
The second Audi in our run down is the Audi A5 Sportback. This compact executive appeal of the Audi A4 engine saloon with sleek lines and added practicality of a sporty hatchback and this unique combination has made the Audi A5 engine a big hit with new and used car buyers alike. Low running costs accompany low depreciation value and if you opt for the Audi A5 2 L TDIe engine model. The result is fuel consumption of 64.2mpg and low CO2 emissions of 136g/km.
BMW 520D Touring SE, 55.1% – Executive
The BMW 520D Touring is spacious, practical, desirable and dynamic. But cheap? Surely not. Well when you take into account the cost of depreciation, the BMW has lots going for it, because the 520d Touring will keep its value more effectively than any of its executive car competitors. For such a big and powerful car BMW 520D engine gives 181bhp. The 520d Touring engine promises claimed economy of 57.6mpg and an official CO2 output only 134g/km.
Volkswagen up! 1.0 (75) White 3dr, 54.3% – City car
City cars are the cheapest cars to own thanks to their economical engines, little emissions and competitive prices, but the Volkswagen up! is the best of the bunch. It flows along beautifully and its willing Volkswagen up engine is easily up to task of powering it.
Peugeot 208 1.0 VTi (68) Access 3dr, 52.5% – Supermini
According to our figures, the entry-level Peugeot 208 1.0 VTi engine model should be worth 52.5 per cent of its new price after three years and 36,000 miles, which means you don't have to spend a fortune to find a car that is good at holding onto its value. A boot capacity of 285 litres and spacious cabin make the Peugeot a surprisingly practical small car, while the Peugeot 208 1.0-litre VTi engine s fuel-sipping thirst of 65mpg and sub 100g/km CO2 emissions ensure it's cheap to run, too.
SEAT Leon Engine 2.0 TDI CR FR 5dr, 52.1% – Compact family car
The VW 2.0-litre TDI engine is tried and tested, and its smooth power delivery and 181bhp output guarantee strong performance. The SEAT Leon engine will sprint from 0-62mph in 7.5 seconds and provide fuel economy of more than 54mpg.