Engines-Buy Engines-Used Engine for Sale-Reconditioned Engines-Gearboxes-Japanese Car Engines-Remanufactured Engines-Rebuilt-New Engines-Refurbished-Cheap Engines-Diesel Engines Rebuild
Ideal Engines Blog - Discuss Engine Issues With Experts
The BMW i8 Spied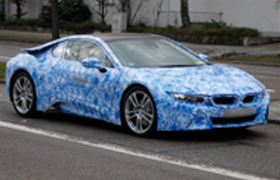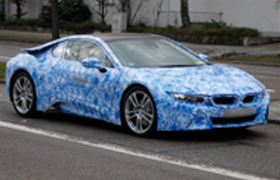 The innovative BMW i8 supercar is shaping up, and it is clear to see from these pictures that it will be every bit as exciting as the BMW Vision EfficientDynamics concept shown at the Frankfurt Motor Show in 2009.
Despite being clad in blue and white camouflage, you can easily see the i8's slippery shape. The design of the i8 has been toned down from the Vision EfficientDynamics concept, but it still retains an aggressively styled nose and low-slung silhouette. Inside, the i8 sports a 2+2 seating arrangement, and a four-cylinder, turbocharged petrol engine and electric hybrid drivetrain. The car was originally planned to use a diesel-electric powertrain for even better efficiency, but a petrol unit will make production.
Performance will be impressive, with a 0-62mph sprint time of just 4.8 seconds possible, thanks to the car's lightweight construction. That will also boost efficiency, which should see a claimed average of around 100mpg. The plug-in hybrid is set to be the flagship of BMW's eco 'i' sub-brand and is expected to cost around £120,000 when it arrives in early 2014. The i8 will sit at the top of the new 'i' line-up, which is expected to include the i3 four-door and two door Coupe models, and a larger i5 due in 2016. An i8 Spyder is expected later in 2014.