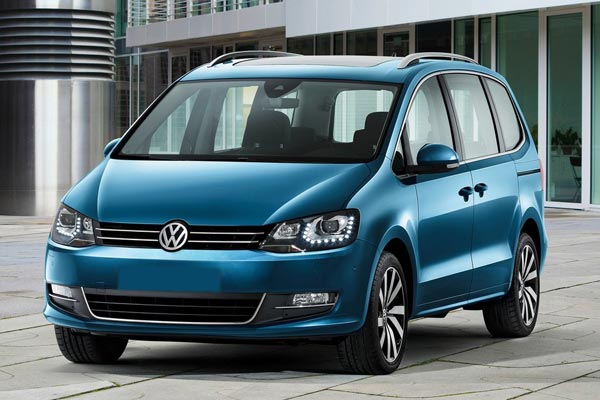 Great handling capacity and lots of space
Volkswagen Sharan is not an eye-catcher and it is not a lavish experience from inside as well. But what it is, it is enough for the buyer that is really a comfortable vehicle ready to transport seven adults with ease and no extra effort from the engine.
There are few vehicles that can match the simplicity and practicality with which this Volkswagen is created. The size is huge whether you are behind the wheel or sitting as a passenger.
To be honest a Sharan is much more attractive from back than the front, at least from this angle it is classy. But from the front the look is of an innocent lovable child always ready to be hugged. The third row accommodates taller people with ease which is the characteristics of only one more such carrier in the category that is Seat Alhambra.
 Engine Choice
There are three engines which are offered in Volkswagen Sharan; one petrol, two diesel. The VW Sharan 1.4-litre petrol engine which develops 148bhp. Although being a starter, this one is really popular carrying a full capacity load with ease and without any struggle. VW Sharan diesel engine is a 2.0-litre with two power outputs; 148bhp and 182bhp.
When tested 148bhp proved to be better due to its effective pull for big families and using least fuel which is good for the economy side. The 182bhp is quicker but the refinement is not good producing more noise and vibration inside the cabin. This problem persists when driving around town, when on motorway both the diesels perform equally well.
Handling is better than others in the category
There is not much in the MPV which can give you a fun drive, but Volkswagen Sharan has proved it wrong. Sharan drives very well and there is a very less of what is found in others of this category.
The body roll is present but it can be ignored as the body balance remains strictly intact. It is speedier and facilitates its occupiers in every way. Where others cramp the third row for even the children, it can easily adjust adults.
Even on steep hills this one really pulls itself showing the perfection put into its making. The control is very good in tight bends and this is where families like comes forward. MPV may be a boring category but this Volkswagen deviates from the notion.
Space inside is well distributed
Practicality is what is needed in this type and this is what has been provided in this vehicle. There is a spacious cabin with very light doors easily operated. Entering and exiting is not a problem as there are no cramped doors making the task difficult.
Accessing the rear seats is also not a problem with a liver in on top of the seat in front its tilts and gives easy seating. When the rows are folded you can load anything you want to fit for the size and there will be no issue from the transport side.