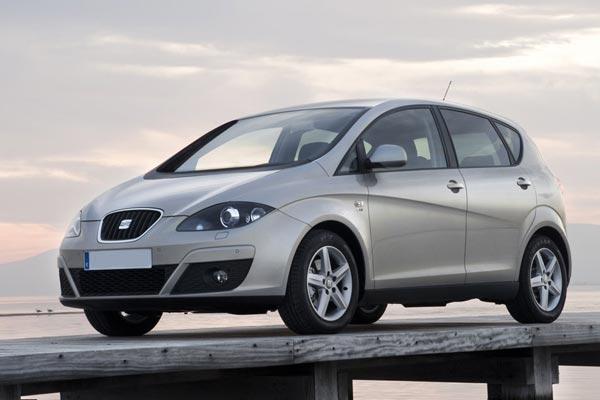 Stylish and sporty look of the car is a big advantage
The car was introduced first in 2003 and now getting reasonable attention that is expected to get transform in increased sales. The other cars present at the show of same manufacturer with greater appeal cannot mar Seat Altea presence.
The biggest edge that is apparent to all that have a look at this modern MPV is being stylish that is absolutely absent in other conventional vehicles fall in same category. So at very first glance you get excited to know more about this spacious car. Body is rather tall but it does not spoil the handling so you will enjoy it all the time while driving.
Interior
Cabin is loaded with ultra modern equipments so you will find all the required facilitations present there. There are just two engines and both are run by diesel the first one is 1.6 litre is capable of 103bhp that is average in performance as power is just adequate. The second one is 2.0 litre diesel that produces 138bhp and good for smooth drive.
Electrifying pick and reaching to a speed of 100km/hr within no time is very much possible with the latter option. Refinement of engines is better but noise of moving tires on road is louder than you can expect and similar is the case with passing by wind.
Suspension is firm enough to keep body in check while moving over bumps and depressions on road. It is usually important for family cars to offer high level of comfort as buyers prefer it over other features like handling.
 Economical and Punchy Engines are always welcomed
Seat engines are not only economical but they are forceful as well so you will be enjoying driving without bothering about fuel consumption as it is quite low. This feature had been part of this car since 2004 and improvement with time was obvious.
Price of the hatchback is also rightly determined and put a challenge to the rivals of this class. Interior is more stylish than previous models so you will find upgrades when enter the cabin. The person sitting on seat for driving has the liberty of adjusting height to get the best position for effective control.
To get maximum comfort this feature is also quite helpful. Steering wheel also offers relaxation to be adjusted to move with ease. Cabin is spacious with enough legroom for grown up passengers and split of rear seat can be folded when required. But it cannot be removed fully and this facility is available in many other MPV.
Electronic windows of front doors and S models have air condition to give an impression of luxury car.
Infotainment System
For music lovers CD player is present, Bluetooth connectivity and controls of climate and cruise are also find place on the list of technology features. In special edition rear windows also similar to front and automatic lights and wipers are added with other specifications. Sporty and stylish exterior when coupled with finely built cabin certainly becomes an appealing combination for buyers around the world.