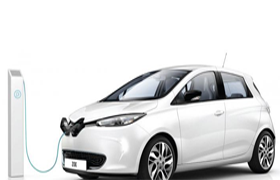 Renault has announced the prices for its brand new all electric car, Zoe. The electric Renault Zoe supermini is now available to order for a £49 deposit. The Zoe will arrive in showrooms in spring 2013, with prices starting from £13,650 including the £5,000 Government Plug-in Car Grant. However, battery hire will cost an extra £70 every month.
The Zoe is a Clio-sized electric supermini. However, the Zoe isn't based on the Clio, and has been designed from the ground up as an electric car. It has a claimed range of 130 miles, but Renault says that, in real conditions, the Zoe will manage around 60 miles in cold weather and 90 miles in warmer conditions.
Zoes also benefit from Renault's Chameleon charger, which is compatible with power sources ranging from a household plug right up to a 43kW supply. This means a charge can take between 30 minutes and nine hours.
When driving around town, the Zoe has a special voice alarm which warns pedestrians that it's approaching. There are three choices of voice, and they can be heard between one and 18mph. The Zoe also can be programmed to heat or cool the cabin to your desired temperature before you unplug it from the charger.
Three trim levels will be available: Expression, Dynamique Zen and Dynamique Intens. All cars get Renault's 'Range OptimiZEr' technology, which includes a new generation of regenerative braking, a heat pump and special Michelin tyres. Renault's R-Link voice-controlled TomTom satellite navigation with 7-inch touchscreen is also standard across the range.
The Zoe Dynamique Intens has a rear parking camera and a dark interior trim pack, while the Zoe Dynamique Zen gets a light interior trim pack and an active scent diffuser, ioniser and toxicity sensor. Both Dynamique models cost from £14,750.
After the Government Plug-in Car Grant is deducted, and delivery and first registration costs are added, the Zoe Expression costs from £13,650.