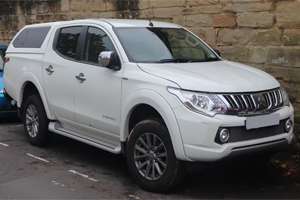 The bold looks and a fresh interior has changed the overall feel
Mitsubishi has given its pick up range an upgrade that has changed a lot of things inside out. The main elements that receive changes are its looks, off-road capability and ride. The exterior has been given the manly appearance which these car buyers look for.
So the criticism has been given attention which was due to the soft looks before. The changes are mainly targeted towards making it better for the comfort side. Overall Mitsubishi L200 is a tough pick up ready to take as much load as possible.
It comes second in the sale rank and is loved by its utilitarian purpose of course but also it is safe and now has an enhanced adventurous side. The interior comes with grace for families and practicality for the load-carrying purpose.
Variation in the body style can also be implemented. The load area can be covered and made available for sitting purpose or remain open. There can be seats at the back in any way or the area can remain empty for luggage.
Another bonus is that there are now low figures regarding fuel consumption which make it more feasible now to be used commercially as well as personally. To ease out engine problems of the customers you get Mitsubishi L200 reconditioned engines in the market.
The towing capacity of this vehicle is really good giving no hard time to the engines. Talking about engine Mitsubishi L200 engines comes as very impressive whether it is in its original form or replaced.
The only 2.5-litre engine
There is a 2.5-litre diesel engine which carries with it 179 bhp and 430 Nm of torque. It takes 11.8 seconds to go from 0-62 mph. It is a powerful engine, you may think it to be worthless due to the timing but it is mainly popular due to its low-end torque.
For a load carrier, it is very important that despite higher speeds it moves in a better way in slow speeds. Today taxes depends on how much clean the diesel engine is and the company has tried very hard to make this one as environment-friendly as they can.
There is also Mitsubishi supply and fit service present at the same place to ease out things more. The owner does not have to wander here and there to get the work done.
A marvellous handling side
Pickups are fun to drive as they are meant to do so. But what is an added factor in Mitsubishi L200 is that it is not going to give its driving fun just for a little while and becomes a problem when reaches higher speeds.
There is a major decrease in body roll and you are not going to be annoyed with body tilting on every minor turn. For the one driving steering is kept properly weighed giving a precise placing and control.
You are not going to land in an unexpected place while you wanted it to be somewhere else. The driving mode can be easily changed to four-wheel drive by just turning a dial and the grip further increases of the tires.
This means the car is perfectly fit for even wet surfaces. So everything is kept simple and usable so that the essence of this vehicle is not lost. There are no complications to make the driver feel frustrated instead of relaxing.
The peak at the inside
Inside you get comfortable seats for the passengers as well as the driver. There is also a good range of adjustment angles for backwards or forwards and up and down to get the desired position. Even at the back, there is a really good leg and headroom for taller people also.
The luggage space is good but if you want something to be covered and there are no passengers for the back then folds the second roan ad you get more. You can choose from three trim levels but will not be disappointed in anyone.
There are really good features associated with each fit for the purpose they are for. There is not only the comfortable family trim; you can get a powerful working vehicle by choosing L200.