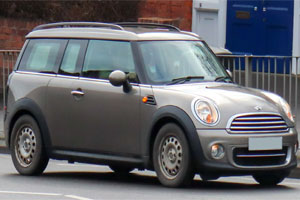 If you are outside the vehicle only then you will be able to hear peculiar diesel clatter
This small car has superb fuel economy, popular Mini style and fun to drive instinct so it could be a great choice for buyers of this category. Mini One D engines are ranked high for their performance and frugal fuel consumption. Mini One D engines replacement is available in auto markets around the world.
It is not as punchy as its sibling Mini Cooper but at the same time is cheaper than the said option. Instead of paying extra money you can enhance features of the car to enjoy the drive and ride more. For a small car, you rightly expect economic environment-friendly drive and nice acceleration to overtake on busy city roads.
This vehicle is the entry-level car of Mini diesel range which has same 1.5 litre 3-cylinder turbo diesel unit and the difference is in output so you get 94bhp instead of 114bhp. This car behaves more like a patrol car when you experience the refinement.
Once you get it moving it is ultra-refined in character so you enjoy driving this car. If you are outside the vehicle only then you will be able to hear peculiar diesel clatter which faints after coming into motion. On pushing speed pedal harder you may feel the harshness while rpm is over 4500.
It offers better economy figures than Cooper
Usually, there is no need to push the accelerator that hard unless you want to test its sprint time which is 11 seconds to reach to 62mph speed mark from static position. Mini One Diesel engines are real reason of popularity of this series.
The sprint time does not suggest the real punchy feel as you push to run it faster as maximum torque for the vehicle reaches to 230Nm. For moving around on roads other than highway and motorway it offers nice speed. It is short of 40Nm only as compared to Cooper.
Six-speed manual transmissions are good to use and let the engine to increase speed smoothly without any jerk. It offers better economy figures than Cooper but 3mpg is not a considerable difference. Car's claimed fuel average figure is 83mpg which is tested on the mix cycle and declared less than 60mpg in the real world.
Though the difference is big the figure achieved is not bad at all. Handling of this vehicle is as good as more powerful Cooper due to same chassis settings so both cars are very much similar except engine power plus some other features.
With more responsive engine fun to drive quality of Mini shines further so Cooper is superior to Mini One. It is a three-door hatch so the rear seat is not easy to reach and travel in a comfortable position for adults.
It is still pricier than the petrol version
It is less expensive third-generation Mini and interior of the car is reasonably good with practical cabin layout. It is still pricier than the petrol version but with the low running cost, it is very much affordable in the long run.
You have a list of options to add features and personalize it to your desires. Mini engine rebuild to bring in use once again and to be installed in cars which have problematic power units. Cabin quality is as good as you find it inexpensive Minis.
Soft plastic and tough material to indicate durability are combined nicely so the overall feel is decent. Driver's seat is positioned to have perfect control over steering and it is lower than you may observe in another sibling of the vehicle.
There is no vibration even if you push the pedal hard so the cabin is not only quiet but also calm. The suspension is not to make your ride ultra-comfortable which the rivals have been offering so harsh feel stays with you either ride or drive. Three driving modes let you feel the difference this vehicle can offer while drive and with Green mode you get the best economy.
With certain limitations, the car has some advantages
The other two drive modes Sport and mid are to let you enjoy the thrill of drive a small car. It is a kind of car suitable for those who do not travel much out of town as it is not good to cruise at desired motorway speed.
With certain limitations, the car has some advantages too so considering your routine needs before deciding in favour of this option. Among standard specifications, you get keyless entry, front fog lights, satellite navigation, Bluetooth and electric door mirrors, air conditioner, sport seats and DAB radio.
These features are enough to meet your needs. To have more there are other packages available to the buyers. Pepper Pack is most expensive and lets you have auto lights and wiper, sport steering, interior lighting and storage compartment. So after paying extra, you get this small car into a very useful Mini.