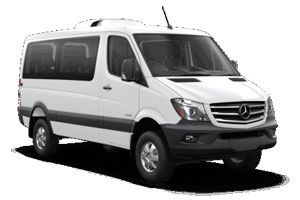 Combining car like features with a work targeted vehicle is a unique experiment
Vans are supposed to be boring, this being an old notion, at least what Mercedes has proved. This category is made according to the new trend set by this company. There are features that are only associated with sedans or saloons but Mercedes automakers has made it possible to have them installed in the Sprinter.
2019 has brought many useful changes in it to make it a better workplace for the driver. The exterior remains the same as before but it is the interior, engine power and advanced connectivity. Business people who can afford it for commercial use will be purchasing a good deal for their company.
As any other van, there are numerous body variations with which it can be customized. There are two wheelbases offered and buyer can have these according to their need. The inclination towards giving comfort to the driver is a good addition. When the environment is good there can be more performance expected from the employees.
The van can be a passenger carrier, a covered load carrier or an uncovered single cabin carrier. Quality of materials used inside has been given full attention. Mercedes Sprinter engines endow it with good acceleration with refined moves for a van.
The nice power distributors
There is no competition between the vans on the racing track and Mercedes is not going to race this product anywhere. But still, the engine refinement and pull is good as being a big fan. The diesel engine which is being offered by Mercedes for Sprinter is of 3.0-litre six-cylinder engine.
The power it produces is 190 hp. A smooth and effortless comes with a torque of 324 pound-feet. The other one is gas powered and is a four-cylinder engine. It has a capacity of 2.0-litre with a power generation of 190 hp but this four-cylinder engine comes with a torque of 258 pound-feet.
There is a seven-speed automatic transmission which is paired with the diesel engine. A nine-speed automatic transmission is there for petrol one. Mercedes Sprinter engine rebuild is present for the Sprinter owners whether they have a new or the old version. The task is to search for the trustworthy Mercedes Sprinter engine replacement service provider so that you get the best work done.
How is the handling side?
Pretty good and for a bug size vehicle as Sprinter is the handling makes the driver confident of placing it accurately. The steering is precise and gives a quick response. The front suspension is cleverly designed to give the vehicle a flexible turning radius especially in tight city turns.
As being a van the ride is firm but it makes the ride a controlled one which has to be there for this category vehicle. At highway speed, there is a wind and road noise but it sticks to the purpose strictly. There are an active lane control and adaptive cruise control available which keep the vehicle on the course it must be and do not let it move dangerously on road.
Cabin score for comfort and quality
The Sprinter promises comfort for the front occupiers and it fulfils it. The cargo van has a really good space in the cabin plus the storage pockets are also good in a number. The passenger van, however, suffers from tight space for the back passenger which is not a good point.
The cargo transporting activity gets a full score as it facilitates the loading and getting out and also makes the journey comfortable as well. The front seats have the feature of multi-adjustment to make every driver that rides the van in a day comfortable.
There is a power adjustment option which comes with a memory function also to make it easy for a different driver to select the comfort position. The driver's seat is situated on a good height to give a full fledge nice outward vision.
The convenience factors
There is the optional MBUX kit offered with a 7.0-inch or a 10.25-inch touch screens. There is a good amount of other goodies which you get with this system. These screens have good and crisp graphics.
The steering mounted controls are another good thing for the driver as he does not have to take the eyes of the road for doing an action. Apart from the standard Sprinter can be loaded with lots of options to give it a car like a feel.