Engines-Buy Engines-Used Engine for Sale-Reconditioned Engines-Gearboxes-Japanese Car Engines-Remanufactured Engines-Rebuilt-New Engines-Refurbished-Cheap Engines-Diesel Engines Rebuild
Ideal Engines Blog - Discuss Engine Issues With Experts
Mercedes-Benz V-Class Van Expected Next Year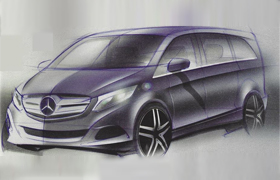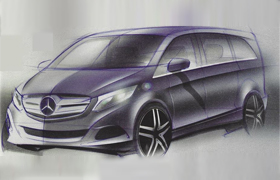 Mercedes-Benz V-Class MPV ready to be launched at Geneva Motor Show 2014
Drive tests continue to extract the actual specs of the new Mercedes-Benz V-Class MPV before its launch at Geneva Motor Show 2014. Latest photos show the Mercedes-Benz V-class MPV is not a bit different from its formerly displayed concept, although the development is in initial stages and Mercedes-Benz believes that there is still much more to be done to the V- Class. It has a luxurious interior with Mercedes-Benz tweaks. The Viano was introduced under the V-Class in 1996 and was used as V-Class Viano till 2003. It will now appeal to the lovers of R-Class vehicles that has been discontinued. Mercedes-Benz has plans to introduce more traditional vans in the last quarter of next year to build up its van series. The all new Mercedes-Benz V-class has the central console and dashboard design much similar to the C-Class and equipped with several components from C-Class, like circular vents, switch gear, tablet screen, touch pad and rotary controller.
It has electric seat switches, window switches and door pulls adopted from C-Class. An optional ambient lighting system is available for the cabin along with high quality leather trims and elegant seats from "Captain's Chairs". It is a very practical multi purpose vehicle and is especially designed for everyday use. A more than ever full-size and broad tailgate offers trouble-free loading and unloading, while it has a standing apart hinged window to stack minor items in the boot. The V-class has a double boot and Mercedes says this is predominantly helpful while in parking spaces or other inner-city locations where gaps are very least. In the v-class, rear seats are now very easy to flip and fold. The climate control system is also enhanced to give better performance in the gigantic cabin of v-class.
Mercedes explains the safety system of the v-class as an important factor, its safety equipments including the driver assistance system, a fully loaded passive safety system, and Mercedes Intelligent Drive interface. Blind spot monitoring system and parking assist with a 360-degree view also available. Cross wind assist and driver sleep monitor is standard as safety equipment in the V-class.