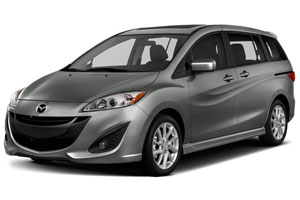 Mazda does not offer several engines or trim levels to buyers of this practical family car
Mazda 5 is a spacious car with several good specs but not highly appreciated. Seats for six passengers, sliding doors and other practical aspects make it an alternative to expensive vehicles with similar capacity. Sharp handling means fun to drive element persists with Mazda 5. From the driver seat surrounding view is clear so you drive it confidently.
Advanced driving aids and safety features are standard in the car. Traction control, electric stability control and anti-lock brakes are to name a few. Mazda has kept it distinctive and aerodynamics on sides make it look smart. Mazda does not offer several engines or trim levels to buyers of this practical family car.
Engines present in the line-up are good units and every Mazda 5 has been equipped decently. People get replacement Mazda 5 engines for sale and remove old power units. Economical fuel consumption and good drive experience also failed to make it prominent in the segment.
For this reason, not sold in big numbers but the car has been praised by owners. The second-generation Mazda was launched in 2010 with the option of two petrol units. The first one is 1.8 litre and the second 2.0 litre but in the very next year, a 1.6-litre diesel engine option was added.
Thus, buyers had decent choice to select either petrol or diesel engine. entry-level Mazda 5 comes with 16 inches alloy wheels, air condition, cruise control and power windows to please modern buyers' needs. The steering wheel has different controls and heated side mirrors can be adjusted with the push of a button. These aides for drivers make driving easy.
Sliding side doors enhance ease of access
The next trim package includes parking sensors, climate control, Bluetooth, tinted window panes and auto lights. The sport model of Mazda 5 offers one-inch bigger wheels and leather upholstery. Just adequately equipped Mazda 5 is a splendid big family car but to increase rear cargo space, the rear row has to be sacrificed.
The cabin has been built with fine materials so in feel you find it upscale whereas seats have plenty of padding and support for occupants. Mazda reconditioned engines make sense for a reliable performance guarantee at a low price. Sliding side doors enhance ease of access to rear rows and with folded last row, boot capacity reaches 780 litres.
With both rear rows down boot will increase capacity to 1485 litres. Service interval of 12500 miles or 12 months cost 200 to 330 pounds and diesel engine Mazda 5 will add 20 pounds more. The petrol engine model has a chain-driven mechanism but diesel engines use a cam-belt. This needs to be changed every ten years.
The petrol engine model came with stop-start technology to keep fuel consumption low. Diesel engine fuel average is 35% better so most buyers find it better for Mazda 5. The entry-level petrol engine model does not come with the option to select from three trims so buyers could only have standard features.
The other two engines, 2.0-litre petrol and 1.6-litre diesel can have any of three trims. To have the liberty to choose any set of features buyers have to choose from the two power units. Mazda has priced the car keenly so remains affordable for many buyers.
This engine paired with five-speed auto transmissions
A little bit smaller than a full-size minivan, Mazda 5 serves the needs of buyers well. apart from seats for seven in MPV, this vehicle has all features of a minivan. Mazda 5 has an element of sharp handling and sport suspension so that on turning and twisting roads control remains good.
Several storage places inside the cabin ensure the high practicality of a compact minivan. Second hand Mazda 5 engines for sale are selected with help of mechanics. Height adjustment for driver seat and keyless entry is also offered to Mazda 5 buyers.
Auto xenon lights, sunroof, auto lights, heated front seats and satellite radio is part of the top trim package. Some optional features for the van include a DVD entertainment system for passengers at rear seats, auto diming rear-view mirror and keyless engine start.
For these optional features, buyers have to pay extra money. In 2015 Mazda stopped offering manual gearbox having six gears. In 2015 2.5 litre engine came with 157hp output. This engine paired with five-speed auto transmissions and power goes to the front wheels. This big engine reaches 60 mph speed in 9.5 seconds and returns 24 mpg on mixed cycle and highways adding 4 miles more to per gallon fuel average.
Front and side airbags come to minimize the impact of the accident
Stability and traction control are part of the safety features of this compact minivan. While moving on a slippery track these aides help you to drive safely. A grip of tyres on the surface and good braking avoids colliding possibilities. Front and side airbags come to minimize the impact of the accident.
Some commonly available features with minivans are missing, like a rear-view camera and blind-spot monitoring. These are not even present in the list of optional features. Sport model Mazda 5 proves better with covering a distance of 124 feet when brakes are applied at speed of 60 mph. With sporty handling, comfort is not like the luxury car so bumps will enter the cabin. Passengers can slide and recline second-row seats to enhance their level of comfort. The dashboard is clean and simple. Only a few audio control buttons are prominent on the dash.