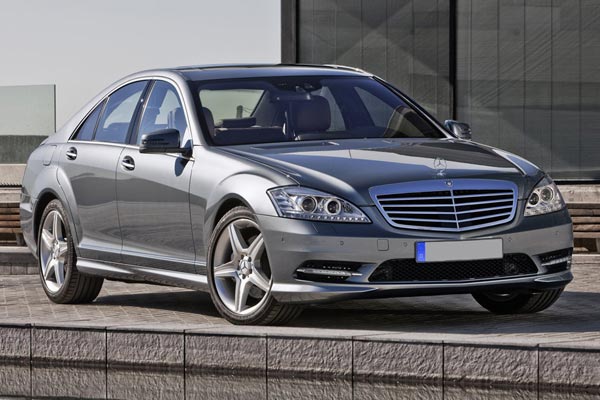 Mercedes-Benz S Class AMG is a dynamic vehicle in each and every trait
Mercedes Benz S Class AMG is a speedy, comfortable and luxurious vehicle
It is a big and luxurious saloon with elite comfort and packed with lots of standard kits. With long wheel base there is ample space to fit luxury features and equipment to perform absolutely well. Grand vehicle, with powerful engines along with extra ordinary smooth and quiet driving experience, is one of the best in long wheel based luxury saloons. Though it is a pricy tag to buy and to live with but it gives taste apart in driving.
Exterior and interior are absolute elite and comfortable
Mercedes Benz S Class AMG has world's finest exterior and interior. In luxury, comfort, practicality and royalty it is the best. Exterior is quite simple but elegant in designing and sleek in shape. With World's best front its exterior is royal in appearance. Front grille is impressive with five royal strips.
Monogram of the company is also looking great in standing position. Interior is dashing with full luxury, comfort and practicality. Low center of gravity gives perfect road grip in high speed. Interior is wide and open with good and ample space for the occupants. Dashboard is big, wide and open with plenty of stylish features. Use of metal, wood and leather is wonderful and remarkable.
Features are simply great
AMG sports seats are its dominating feature with leather finished and electronically adjustable controls to move in any angle and direction. Anti-lock braking system, alarming systems, audio remote, CD player, four zone climate control, adaptive cruise control, traction control, parking sensors, ISOFIX children seats anchor point, reverse camera assist, lane departure warning system, standard airbags with side curtains, remote locking and central locking, electric seats and electric mirrors, heated and cold seats and heated mirrors, leather upholstered dashboard, seats and steering.  lumbar supports seats, TV, telephone, CD player, CD multi changer, separate adjustable suspensions, headlight with washers, Sat Nav, Bluetooth connectivity, AUX supported, front fog lights and LED tail lights are its general features.
Powerful petrol engines have made it a wonderful choice
There are two powerful petrol engines to make this giant more furious. One of them is a 5.5 litre with 576bhp and 664lb/ft torque. It is a powerful engine and great performer. It takes 3.9 seconds to reach from 0-62m/h along with top speed of 155m/h. With an eight-cylinder petrol engine, it is very thirsty and gives just 28m/g along with 242g/km of CO2 emissions. It is fitted with seven speed automatic transmission with rear wheel drive unit as standard.
Another one is a 6.0 litre engine and this engine is capable of 621bhp and 738lb/ft torque. It takes 4.2 seconds to reach from 0-62m/h along with top speed 155m/h. It gives 23m/g of fuel average along with 279g/km of CO2 emissions. It is fitted with seven speed automatic transmission with rear wheel drive as standard.
Safety, reliability and practicality
This vehicle is just for luxury, comfort and speed. It is a worthy vehicle in safety and reliable concerns. It has gained five stars from Euro NCAP. It is perfect for everyone due to its perfect safety kits. Its practicality efficient with excellent sitting arrangement and with big boot.