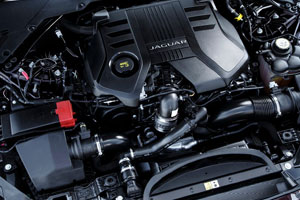 Four-wheel drive configuration is present as an option and F Type suspension
With great styling of the exterior, nice cabin settings and fun to drive traits Jaguar XF has made a strong impression in auto markets. Jaguar XF engines are also responsible for these positive comments with other noteworthy features on the latest XF.
There are some drawbacks of a new range of the car like all other cars and these are some cheap-looking areas of the interior, diesel refinement is not up to the mark and no base level petrol engine in the line-up.
No real change in exterior though this area has also been worked upon by the company and you can notice if look closely. With aluminium body weight has reduced a great deal as a new model is 19kg less weighty than the outgoing model.
Four-wheel drive configuration is present as an option and F Type suspension has enhanced ride comfort. Power units have also changed and new cars get high tech 3.0-litre diesel engine.
This unit is great in terms of fuel average as it returns 70mpg excellent figure for this stylish car. Top-end models of the range have V6 diesel engines which surely offer a greater output in terms of power.
The smart choice is 240hp diesel engine which offers similar power as big petrol units. This strong engine power is at good fuel average so you can afford it too.
Interior is a nice place to be in
Jaguar XF is a good car with decent repute. Jaguar engines replacement is not hard to find in the UK and it is at affordable price by used car engines' suppliers. A new model of the car is little smaller than the old one but interior space has increased due to longer wheelbase so you will enjoy roomy cabin and ease of ride.
Interior is a nice place to be in but you will not have high-end tech features like Mercedes and BMW. With a new infotainment system, things have improved a lot as you now have sharper graphics and quick response to the inputs.
To make things simpler for buyers, previous condition of a member of Mensa to program infotainment system is also no more there. You get features what is expected by buyers of this class of vehicles like standard satellite navigation, Bi-xenon headlights and leather upholstery.
In a list of optional features, you can have driver aids on electric power steering which makes driving safer and easier. Perpendicular auto parking and lane-keeping assistance are also present in this list of options.
Most of the changes in this new model
It is a big executive car and if you want to enjoy the best driving features of this class then you can opt for it and not big names of German carmakers. It is also a good looking car so you get nice exterior with good driving dynamics in Jaguar XF.
With added rear legroom the car has the best ride comfort for seats' occupants. Jaguar XF engine rebuilds to bring in use once again for their frugal but powerful performance record. Most of the changes in this new model may not easily be noticed but when you have a chance to drive or ride you feel the difference.
The supportive driving seat is a blessing and as you sit on driver's seat you come across sporty theme of XF. The dashboard is at a good height just like windows to give you a feel which is missing in others.
Conventional buttons are also frequently seen
With several changes, the car carries some old features too like the engine start button, air vents and gear selector which rise from the centre console. The dashboard is not dominantly covered with infotainment system screen and use of leather and metal keeps interior very much traditional.
Conventional buttons are also frequently seen but these are to make use of tech features simple and easy rather than serving any other purpose. In this way, it is very much a car which is less complex to understand to bring in use the features.
Generally, materials of the cabin are of good quality but some of them are not as plush as you see in rival vehicles. Jaguar has great digital features like eight inches touch screen infotainment system which recognize finger gestures. Optional 10.2 inches In-Control Touch Pro system allows you to zoom in and out for maps.