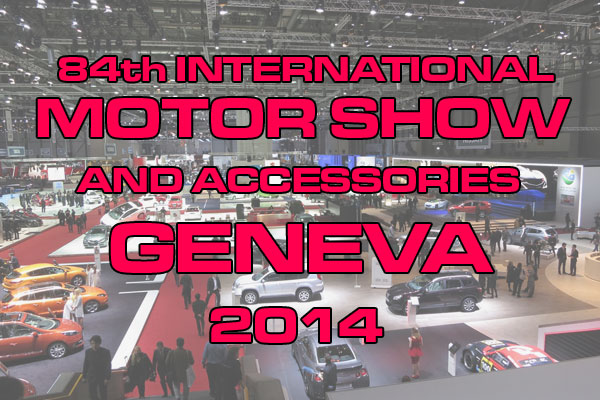 Most praised public debuts at Geneva Motor Show 2014
Geneva Motor Show is one of the biggest motor shows in the world and this platform always ensures it exhibits to motor enthusiasts the very best of automobiles. This year's show revealed a wide variety of concepts and production models along with performance cars, with the main emphasis on the new generation of lightweight cars. There were couple of models making their public debuts and we have selected a list of models which were praised a lot at the Geneva Motor Show 2014.
Renault Twingo
It is a credible reengineering of the Fiat 500 which looks very charming than the Fiat 500 itself, but the actual fascination here is in the driving prospective of Renault Twingo. It is a rear wheel drive beauty with rear engine and clever designs. It will be available for sale very soon but prices are still to be confirmed. Laurens van den Acker who is the Head of Industrial Design for Renault said, "New Renault Twingo was inspired not only by the original Twingo but also by the Renault 5. It is a modern take on the city car theme with the accent on innovation in terms of its lines and architecture. New Twingo is a fun, playful and vibrant city car. It is ultra-manoeuvrable, roomy and immensely practical. You'll be itching to get behind the wheel and take it out for a drive."
Citroën C4 Cactus
One of our previous blogs was on the Cactus C4 production version which was unveiled early last month with ultra low curb weight and class leading efficiency and fuel economy. Now the Cactus C4 has made its public debut at the Geneva Motor Show. It is not particularly a big car, regardless of fairly roomy back and front seats. Its height could impact the handling, but in terms of fuel economy, it is rated at an enormous 91.1 mpg on the European cycle.
Honda Civic Type R
Honda unveiled the new Civic Type R Concept at Geneva Motor Show with a description of "A racing car for the road" rather than a high performance edition of a road car. The sleek and aerodynamic outlines replicate that the car is designed for performance whilst upholding the look of a road car and the characteristics of Type R. Honda has confirmed that the new Type R will be the only model in Europe to trait one of its Earth Dreams Technology VTEC TURBO engines.
Volvo Concept Estate
This car is one of the stars of the Geneva Motor Show. It's sleek, modern, and stylish with lovely taillights. The Volvo Concept Estate is dressed with an extremely attractive interior whose dash console is designed around a large, marvellously prepared touch screen that's a joy to use. Robin Page, Design Director Interior of Volvo Car Group explains, "Not having to deal with buttons and a control for a growing number of functionalities is like being freed from a pair of handcuffs," Volvo's new design and the innovative driving experience will be launched in the next car cohort, starting with the all-new Volvo XC90 expected at the end of 2014.
Audi TT Sport Quattro
The third generation of Audi TT coupe has made its public debut at Geneva Motor Show, displaying an innovative design for this fashion-forward coupe. As expected, the new TT takes ample of motivation from the Sport Quattro Concept that debuted at Frankfurt Motor Show last year, an engine with 408bhp plus the capability to sprint the car from 0-62mph in 4.0sec is exclusively leading the car. Prof. Dr. Ulrich Hackenberg, Member of the Board of Management of AUDI AG for Technical Development said, "The Audi TT is the epitome of an authentic design icon and a top-performance driving machine," "With the new generation, we are making this technology even easier for the driver to experience, just as they would expect from a real sports car."
Toyota Aygo
The new Aygo, revealed at the Geneva motor show, is another paradigm of Toyota's promise to build ever-enhanced city cars with eye catching designs and are legitimately a fun to drive. A characteristic and innovative design and an affluence of customisation options show how Toyota has made fun a key factor in manufacturing its new city car. New Aygo will be presented with a five-speed manual transmission or optional new x-shift which is a new technology used in transmissions that can be used in fully automatic mode or as fully manual. It has 67.3mpg with x shift transmission and under hundred grams of CO2 emissions.
Lamborghini Huracan
The newcomer is expected to share a platform with the next-gen Audi R8, meaning a possible aluminium space frame construction should be far lighter than what lies underneath the Gallardo. Under the hood, the Huracan will use a heavily modified version of the 5.2-litre V10 engine from the Gallardo with power expected to be around the 600bhp mark.
The 5.2-litre V10 that powers the current LP 570-4 will reportedly feature in the new model, but it will be tweaked to produce an additional 38bhp, increasing its output to 600bhp with low revisions. A new gearbox with a new seven-speed dual-clutch transmission replacing the old e-gear system which means the Huracan hit 62mph in just above three seconds with a top speed of 200mph.