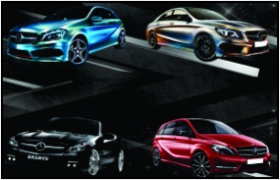 French Conseil d'État, has passed the orders to the government to lift the ban on the registration of many Mercedes-Benz models like Mercedes A Class, B Class, CLA and SL. The conflict between the French government and Daimler, owner of the prestigious brand, started a month ago when the government banned the registration of these four models because the air conditioning coolant used in these cars has been outlawed by the European Union due to its impact on environment.
The German car manufacturer protested furiously against the move that affected more than 5,000 sales of its cars. According to some, the Paris wanted to signal the powerful German car industry that it would not be allowed to bend the rules, France is the only country who has taken such a strong action against Daimler. However, the court has issued a preliminary ruling to reverse the restriction and stated that the Mercedes models are not a serious threat to the environment and ordered to start the registration process within two days.
French government was one of the European countries who were upset when Angela Merkel, the German chancellor, blocked a move that could see stricter carbon emission restrictions on the car makers, this would have hit the German luxury auto industry.
Last month, France implemented the 'safeguard procedure' that allows the EU members to act unilaterally to prevent a serious risk to road safety, environment or public health. The  top administrative court 'seriously doubts' the legality of the implementation of the safeguard procedure. Mercedes' said that it welcomed the decision "which recognises our legitimate rights".
The concerned air conditioning refrigerant is R134a , which has been banned by the EU to be used in the new models due to its harsh impact on the environment. All the pre existing models can use use the gas till 2017. However KBA, the German automobile authority, allowed Mercedes to continue the use of R134a in its cars isn response to the argument that the alternate R1234yf is highly flammable. Toyota is also continuing to use R134a to "alleviate the concerns of our customers".