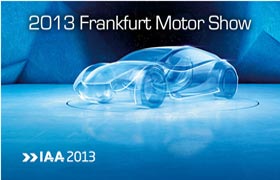 The Frankfurt motor show or usually Frankfurt Auto show is held every year in Frankfurt, Germany under IAA authority which stands for Internationale Automobil-Ausstellung (International Automobile Exhibition). It is one of the world's largest automobile shows in which every manufacturer on the globe takes part exclusively. This show occupies almost twelve buildings, this year Frankfurt Auto Show has started from tenth of September 2013, and will be in progress to 22nd of September 2013. Almost all the automobile manufacturers are
participating in the show and introducing their products. Nissan has introduced "a smart watch" that might not be a car but a great invention, which can measure the heartbeat rate of the user along with the temperature and other similar biometrics. The point is that why this watch is introduced in the auto show rather than on a fashion show? It has some features that can analyse the automobile data as well, for instance, fuel efficiency stats of the car, average speed and the telemetric data. This watch is developed by the Nissan Nismo lab to capture data from Nissan racing cars and their drivers. Here you have an overview of some hot arrivals at the show till date;
Concepts introduced at Frankfurt Auto Show 2013;
1-      Audi Nanuk Concept
Audi has exclusively introduced the Nanuk Concept at the Motor Show that is described as the high performance sports crossover with Audi dynamics. This concept is powered by the 5.0 litre V10 power unit that is inspired by the twin turbo with TDi diesel configurations however it can generate 537bhp of power and the 1000Nm of twist with the seven speeds S Tronic technology.
2-      BMW M4 Concept
The M4 Concept from the 4-series has also been introduced in the show by BMW and it is expected to be powered by the six cylinder engine with turbocharger, designed to generate about 450bhp of power.
3-      Mercedes S Class Coupe concept
The S Class coupe is an ultimate replacement to the CL models, however it will go through a heavy hardware changes in 2014 when it is expected to formally join the range. S-class Coupe concept is powered by a 4.6-litre engine with twin-turbo V8 configurations, just beginning with a massive punch of 449bhp of power and 516lb ft of twisting power. Be expecting an absolute suite of V8 and V12 engines in the manufacture model, where you can ask for the 600 bhp versions even in the AMG trims.
4-      Toyota Yaris Hybrid-R concept
Toyota has finally introduced the Yaris Hybrid-R concept at the show that has broken all the digital barriers in technological advancements. It is based on the Le Mans power terrain with the 1.6 litre engine of 300bhp and the electric motor combines to give a total power output to 400 bhp for the car with the super capacitor juicing system in the car to quickly accelerate it on the road.
Different new models are also introduced in the Frankfurt Auto Show 2013 so, have a look on several models;
1-      Audi A3 Cabrio
Audi A3 Cabrio is launched at the Frankfurt Motor Show, and likely to go on sale in the UK in October, however the deliveries will start in March 2014. It is equipped with the series of engines from 1.4 litres to 1.8litres in petrol and a diesel variant of 2.0 litres. It has claimed its sprint time of 5.4 second from 0 to 62 miles per hour.
2-      BMW i3
BMW has exposed the new i3 model at the Frankfurt Motor Show 2013, where the company established specs and particulars of the new i3 electric car. It will be launched in November as a pure electric version.
3-      Volkswagen e-Golf
Volkswagen eGolf is introduced at Frankfurt motor show which is a rival to Nissan Leaf. It has an 113bhp electric motor that can generate the twisting power of 270Nmand it accelerates from 0 to 62 miles per hour in 10.4 seconds and has a top speed of 87 miles per hour. It has the charging capacity of 118 miles.
4-      Nissan X-Trail Rouge
Nissan X-Trail Rouge is introduced at Frankfurt motor show with a refreshed range of engines and active engine brake system that harness the power and control system and offers the class leading control.
5-      SEAT ST FR Ecomotive
Seat has introduced their latest generation at Frankfurt motor show, with a new Ecomotive engine that has also just been launched, it is not only introduced in the Leon ST, but also for the SC edition and 5-door versions are also equipped with it. As we've seen with comparable approach from Skoda, Audi and Volkswagen, this sparkling and resourceful model is motorized by a 1.6 TDI diesel unit that can produce 110 PS and 250 Nm of torque. Performance is comparable as well it proves the speed benchmarking of 0 to 62 mph in 10.4 seconds.