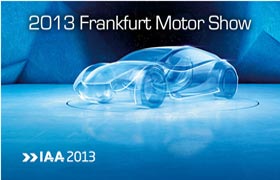 This year at Frankfurt Motor Show some masterpiece concepts from the automakers have been introduced that make the show more interesting. The BMW i8 and the Porsche 918 Spyder and many more models are introduced as concepts however after striking through the torrents of auto fans, the motor show is gradually turning to wrap up and the aftershocks are still there, let's have a look what made an impression at Frankfurt Motor Show on the weekend.
1-  Brabus B63S 700 6×6
After an aggressive entry of the G63 AMG 6×6 by the Mercedes Benz, the all new Brabus B63S 700 6×6 is introduced at the Motor Show. Brabus is a great combination of carbon fibre and chrome body designed to make this six wheeler more aggressive vehicle, powered by the BiTurbo V8 engine of more than 700hp with high performance metal catalysts and the exhausts made of stainless steel.
2-  Ford Mondeo Vignale Concept 
Ford has also introduced the Mondeo Vignale concept at Frankfurt Motor Show as a unique upscale product for the European market. Vignale has come up with the great expressions of the Ford in the Europe and the concept is the real example of style, quality and advanced technology exclusively dynamic. It will be available for sale in Europe by 2015 in the four door saloon and wagon with the MyFord Touch Connectivity System.
3-  Spark-Renault SRT_01E
 For the FIA Formula E Championship, Renault are preparing their army and to accomplish their goal of winning the championship, they have introduced Spark-Renault STR_01E an electric racer car at the Frankfurt Motor Show. It is an electric car with one seating capacity and the power of 270 horsepower distributed through rear wheel driving configurations and it can maintain maximum of regular 180 horsepower. The SRT_01E will get to demonstrate itself in September 2014.
4-  Nissan X-Trail
The lustrous new invent fetch is added to line with the brand's newer approach, and the SUV should be accessible in the vicinity in cooperation of five- and seven-seat arrangements. Engine preferences are inert to be finalised, but there's a possibility we could perceive a 2.0 litre petrol-hybrid preference when the new model will reach your destination next year.
5-  Skoda Yetti 2014
The Skoda Yetti for the year 2014 is also introduced at the Frankfurt Motor Show this week with the conformation of the arrival that it soon coming to Australia, however the all new rapid space back by the Skoda is also on display.