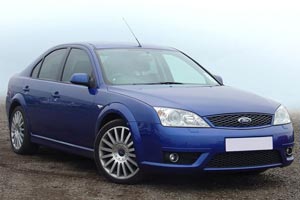 Every unit has its advantages but generally, buyers desire low fuel bills so diesel engines are preferred 
The beefy but modern look with creased bumper, sleek front lights and wheel design of the Ford Mondeo attract many buyers. A new model of the car is a much-improved version of the Mondeo so buyers find every reason to go for the latest model. The car excels in terms of premium look and feel. This is why experts find it a good alternative to luxury competitors in the class.
Handling is not excellent on twisting roads but improvements deserve appreciation. Ford offers Mondeo in hatchback and estate body styles. This roomy family car ensures a comfortable ride and cabin laden with modern technology. The petrol engine range for the car comprises 1.0 litre, 1.5 litre and 2.0-litre turbocharged units.
For excellent fuel economy, you can choose from 1.6-litre diesel and three variants of 2.0-litre diesel units. The petrol hybrid model of the car is also present. Thus, the complete range of engines is present for Ford Mondeo buyers. Just understand your needs to choose the right engine. In replacement Ford Mondeo engines for sale, you can find both diesel and petrol units.
Every unit has its advantages but generally, buyers desire low fuel bills so diesel engines are preferred. In the presence of a petrol hybrid model, modern-day buyers still consider diesel engine Ford Mondeo. In appearance, the car looks simple, clean and elegant.
Matching door mirrors and options of exterior paints let you choose Mondeo in the colour of your choice. It is a heavy car so engine power of 180bhp may not pull it as efficiently as it could any lightweight car. Handling of the car is good even with its heavy weight.
A more powerful variant of the same four-cylinder unit
Ford simplified its engine range and abandoned Mondeo with petrol engines. Only hybrid and powerful diesel engines are now present in the line-up. Both are good for their fuel economy and performance. Frequent motorway cruising requires a 2.0-litre Eco-Blue diesel unit model of the car.
You can pair it either with a manual or auto gearbox. The manual gearbox is a good choice for a better fuel average than the auto gearbox. The carbon emission claim for the 148 bhp engine is 130 g/km and fuel economy of 56.5mpg. These figures ensure long-distance travelling without refilling need.
A more powerful variant of the same four-cylinder unit gives you 187bhp output for effortless cruising. The fuel economy drops to 50.3mpg and emission increases to 147g/km. Choose Ford reconditioned engines with a guarantee. When you choose a four-wheel drive configuration for Mondeo then these figures become worse in terms of higher fuel bills and annual road tax.
A plug-in hybrid model is for company car buyers due to its fuel average and very low emission. With a standard kit, this car is competitively priced but high-end models increase its price significantly. Ford Mondeo warranty stretches to three years or 60,000 miles. Ford offers the same for every new car.
This warranty can be extended to four or five years by paying an additional premium. One of its rivals offers a seven-year warranty so this warranty seems quite limited. Ford Mondeo is a very good car and its qualities cannot be ignored for one or two shortcomings. Its wide dealer network in the United Kingdom makes it easy for owners to repair and service the car.
Ford traded agility for luxurious comfort
Different service plans are offered by Ford to cut the cost and Mondeo owners can benefit from these options. Roadside assistance is an enhanced service feature at a bit extra cost but you get the desired assistance round the clock. Ford has enhanced Mondeo refinement and comfort but could not maintain the fun-to-drive element.
Its sport handling or quick change of direction is not like the previous model of the car. Response of steering has not been as sharp as experienced in the previous model. Otherwise, steering is precise and quick. While cornering and moving on twisting roads you feel the difference between the new and outgoing model.
Ford traded agility for the luxurious comfort of riders so the new model offers better ride comfort than ever before. This quality may be appreciated by some but many people may not like this shift of Mondeo towards lavish comfort. Option of second-hand Ford Mondeo engines for sale are present for budget buyers.
Pure electric running for the car for urban travelling can be extended further in coming models of Mondeo. Moving quickly on busy roads is possible due to the torque available at low revolutions. This family car is still good to drive.
Low powered variant of the power unit is proved slow
Powerful diesel engine Mondeo reaches from 0-62mph speed mark under nine seconds whereas 148 bhp engine reaches to the same speed in 9.7 seconds. Thus, low powered variant of the power unit is proved slow to overtake as it takes almost ten seconds to cross the sprint speed mark.
Leather upholstery for the interior and sharpinfotainment system catches your attention when you enter the cabin. The top model of the car is not highly recommended because not much difference has been experienced. Only more features are offered to buyers of the Vignale model of Mondeo. Interior has been designed to offer an upscale look and you will find designers successful in this attempt. The eight-inch infotainment system is standard for the car. This Sync3 system of Ford has voice recognition and can read text aloud. Apple Carplay and Android Auto are also integrated into Sync3.