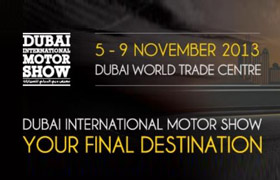 Dubai Motor Show 2013, highlights of what happened so far
The Dubai International Motor Show is ON from 5th of November to next five days and all autos enthusiastic are invited to feel the heat at the DIMS in only DH55 for a day pass entry and sale of tickets is also open. Children under five years are free to enter the show with their parents, the timings are variable every day as;
November 6: 1100 to 2200                         November 7: 1100 to 2300
November 8: 1100 to 2300                         November 9: 1100 to 2200
Diamond Peppered Rolls Royce Phantom
At the 2013 Dubai Motor Show there's a diamond peppered Rolls-Royce on display. It's a Rolls Royce Phantom that showed off the real diamonds in the door cappings for the Sheikhs of Dubai who have excessive amount of gold in their 'cappings'.
Spano GTA Speed And Beauty Combined
 Spano GTA is the limited edition of the Spania GTA with awful and elegant looks and an impressive speed. It is powered by a 8.4 litres turbocharged V10 giant engine that has the ability to generate 900 bhp of power. It has a top speed of 350 km/h. It has been built with good combination of different materials including carbon fibre, titanium and Kevlar for extra stiffness and nimbleness with precision.
Devel Sixteen Locally Built Supercar 
The Devel Sixteen is the first super car that has been built in UAE and is a good example of the phrase; 'think done' yes believe me it has super speed that can push you into the seats. The superb performance comes from 5000bhp sixteen cylinder engine under the bonnet giving it the top speed of 560km/h which is half of the Speed of sound.
Lykan Hyper Sport First Lebanese Supercar
W Motors of Lebanon has launched their first super car at Dubai international Motor Show. W Motors has the plan to produce only seven supercars with each costing 3.4 million US dollars which is just double than the price of Bugatti Veyron and nine times higher than the Lamborghini's super car Aventadors.