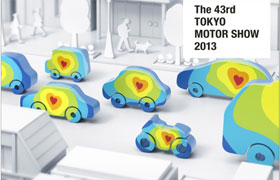 Top Concepts unveiled at Tokyo Motor Show 
At any Motor Show in the world, the most interesting display is the 'concept cars' as people are always curious about the new inventions. Concepts give an idea into the future of automotive industry and advanced designs show the dazzle of engineering led innovations. These concepts also help the auto makers to judge the public opinion and more ideas at future production techniques. Tokyo Motor Show is in progress and everybody definitely knows that Japanese automakers had a hard and tough year in Japan due to Tsunami and other earthquake leading disasters in the country resulting in constrained production process. This year, not only any idiocy is avoided by the car manufacturers but also there are plenty of concept cars ranging from eccentric to attractively realistic. Let's have a look at some of them who have attracted lots of attention from the visitors.
Suzuki Regina
Suzuki has a number of cars on display, however, Regina is the best concept from the house of Suzuki and it appears to have been inspired by the cuttlefish.  It has at least 10% lower coefficient drag as compared to other similar models.
Daihatsu Sho Case
A great concept introduced by Daihatsu, the Sho Case looks like a lunch box truck, steering wheel and seats are crammed away for.., well we have no idea why, but it still looks very funny and interesting. It is a hydrogen fuel cell powered vehicle, which is fitted under the floor.
Honda Micro Commuter
Honda has a massive contribution in research and development of future vehicles and they have introduced a future friendly concept at Tokyo Motor Show 2013, it is a Micro Commuter concept by Honda, a tiny electric car that has the controls like an airplane and maximum speed of 37 miles per hour. It has an ability to show custom messages to the outside world with the help of dual dash board made of glass.
Toyota Fun-Vii 
Toyota is not behind in introducing future automobiles and at the Tokyo Motor Show 2013, the Japanese car manufacturer has launched a world premiere of Fun-Vii, an awfully future forward car which has three seats as a concept. It looks more like a computer application based car with many skins that can be changed via Smartphone and it can also communicate with nearby cars for safety and social networking.
BMW i8
This isn't the first display of this hybrid sports by BMW, it is powered by a three cylinder BMW diesel engine and two electric motors. It sprints from zero to 62mph in just 4.5 seconds which is amazingly good. It has a capability of travelling more than 20 miles on pure electric mode and 430 miles on fully charged battery and a full fuel tank of diesel. BMW has announced that the i8 will be in production in this year.
Smart Forvision
The Smart Fortwo is an attractively charming and lightweight micro car. Even so, Smart wants it to be more lighter and energy efficient. Meet the Forvision, the design might be based on the Smart ForTwo, but that's really it, the Forvision derives a lot like taillights, wheels, front blueprints from the Smart Forspeed Concept that was introduced in the Geneva Motor Show 2011, but adds a perforated roof with semi-transparent holes that permit light to pass to the solar panels to charge the battery packs of this tiny princess.
Mercedes-Benz A-Class
A-Class concept from Mercedes-Benz is also introduced at the Tokyo Motor Show which canonly be described as 'stunning'. It has an aircraft inspired design based on the aluminium body and has a fascinating grille whose beauty cannot be described in words you will have to see it with your own eyes. It is a four seater with a four cylinder turbo gasoline engine under the bonnet, chassis is also customised to fit the fuel cells and  battery packs of the electric system in the future.
Subaru Advanced Tourer
Subaru has introduced an advanced Tourer with the combination of gull wings and suicide doors which make the entire car looks great when closed-up. A horizontally opposed Subaru Boxer engine empowers the Subaru Advanced Tourer. It is an all wheel drive vehicle but it is also combined with an electric motor for hybrid system.
Nissan Pivo
Nissan is also contributing in Tokyo Motor Show with number of new models and concept cars and Pivo Concept is one of them, it is an extremely agile and efficient vehicle with electric mechanism. It is an all wheel driven car and  each wheel can be controlled independently allowing the Pivo to manoeuvre in very small parking spaces and make a U-turn in a very short circle.