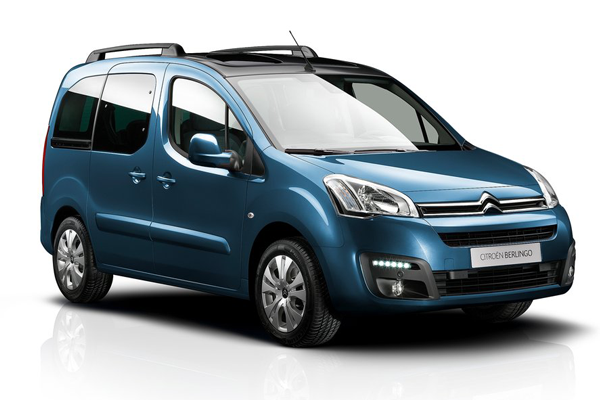 Engine range is quite efficient in performance; diesels are the best with their good torque values
The Citroen Berlingo doesn't appeal by its look but its practicality is impressive and its payload is more than any other MPV available in the market. Its different body styles and economical engine range compensate its dull and ugly looks.
The Citroen Berlingo is a well reputed MPV due to its performance worldwide, basically it belongs to Europe but its practicality and workability has made its worth in different regions especially in UK as one of its biggest markets is the UK.
The Citroen Berlingo is recognized as a best delivery van in UK. The Citroen Berlingo has a good engine range in both petrol and diesel. The vehicle behaves perfectly with diesel engines. Petrol engine range is limited and less powerful than the diesel one.
The Citroen Berlingo is not only an MPV in its use but also used as a family vehicle. There are seven seats available with plenty of room for heads and legs. It is based on the formula of Peugeot Partner and Fiat Doblo.
In Europe these panel vans are named as Berlingo and Partner, while the leisure activity vehicles are known as the Multispace or Partner Combie. The Citroen Berlingo is in its second generation with lot of improvement, especially equipment levels have been improved in an attempt to keep Berlingo in line with competitors such as the Volkswagen Caddy, Fiat Doblo Cargo and the hottest selling brand in UK, the Ford Transit Connect.
Two Variants for UK Market
The new Berlingo is available in UK market with two variants L 1 and L 2. The L 1 is more useful than L 2 due to its highest potential in payload. Diesel engines are known as best for loaders so most of buyers take its diesel version for their daily usage.
The Berlingo as an MPV has a good range of engines with good practical approach and performance. The diesel versions are well coupled with this panel van.
When you are discussing an MPV, speed should be discussed at the end of the talk. The real things are performance, loading capacity, wheel base and fuel consumption with load. The Citroen Berlingo was first made as a passenger carrier but now it is used as a panel van for loading.
Different versions and models of the Citroen Berlingo have different engines range for example trim levels are different in engines and specifications as standard trim level is equipped with 1.4 litre petrol engine which is capable to produce 75bhp and 82lb/ft of torque. It takes 14.1 seconds to get from 0-62m/h. Its fuel economy is not good; it gives 39m/g of fuel average with 178g/km of CO2 emissions.  The other version in this trim level is 1.8 petrol engine which is capable to produce 90bhp and 108lb/ft of torque. It is little bit faster than the previous one; it takes 11.8 seconds to get from 0-62m/h.
This unit is less fuel efficient than 1.4litre petrol version. It gives 31m/g of fuel average with 210g/km of CO2 emissions. In First trim level there is only one petrol unit, 1.4litre with same output. In Desire there is one petrol engine with 110bhp and 108lb/ft of torque. It is quick in performance.
It takes 10.9 seconds to get from 0-62m/h. its fuel average is 37m/g with 177g/km of Co2 emissions. The Citroen Berlingo is a large MPV, so in petrol versions its average is round about 35-40m/g.
In Forte and XTR trim levels there are 1.4 litre petrol engines with same figures and same outputs the 1.6 litre petrol engine is also with its standard figures as we have in other trim levels.
Diesel engines and their performance in different models and trim levels
In HDI trim level there is one diesel engine 2.0litre diesel with 90bhp and 151lb/ft. It is recognized as a powerful engine with good fuel efficiency. It takes full loaded Citroen from 0-62m/h in 12.7 seconds, good speed for a diesel engine under a heavy loading MPV like Citroen. It is a quite fuel efficient version than petrol units; it gives 47m/g of fuel average with 155g/km of CO2 emissions.
In First trim level 1.6 HDI diesel engine has been used with 75bhp and 124lb/ft of torque. This unit is not as powerful as the previous diesel unit but it also keeps good fuel economy. It takes the vehicle from 0-62m/h in 14.9 seconds but it gives 53m/g of fuel average with 140g/km of CO2 emissions.
There is another less power diesel unit; 1.9diesel engine is capable to produce 70bhp and 92lb/ft of torque. Though it is sluggish but having great power of pulling in low and high revs it takes 15.8seconds to get from 0-62m/h and its fuel average is 42m/g with 178g/km of CO2 emissions.
A 1.6 litre HDI 16V diesel is of 92bhp and 158lb/ft of torque. It gives a good fuel economy of 52m/g and power too it carries this large MPV from 0-62m/h in 12.5 seconds with 143g/km of Co2 emissions. In Forte and XTR trim levels diesel engine produce the same outputs that we discussed above in detail.
Standard Equipment
Different engines are equipped with variations of equipments as standard, to produce their best output.
The Citroen Berlingo has used six-speed EGS gearbox in its different models and it works efficiently and gives a relaxed driving in city area. This unit is specially designed to help a cargo van in handling its weight accordingly with the power of the engine and gives an ultimate smooth and safe ride to a load carrier.
The gear lever is in good position and steering has a good weight to control the large MPV like Citroen Berlingo. The Berlingo XTR is a well equipped with sophisticated electric traction control system. .
This system helps a lot to control the loaded vehicle and enhances the road grip in difficult conditions by adjusting the power and braking automatically. Overall handling of this large MPV is far better than its competitors. Handling is surprisingly agile.  .
All the controls are light to operate. The optional full-length sunroof makes it feel like a convertible. The Citroen Berlingo is a versatile vehicle in this sense.