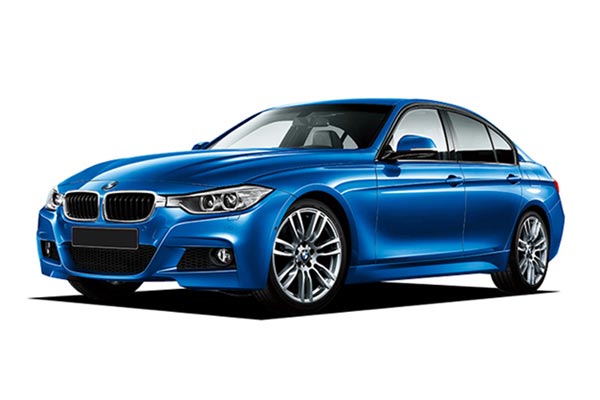 It is a luxurious vehicle that has power of sports car and move smoothly on busy roads
There are very few vehicles that can be tagged with all major attributes buyers need to have in their automobiles and BMW 320i definitely falls in this category. With ample rear seat room the passengers get good support and can avoid getting tired throughout a long distance ride.
The elegant exterior is of peculiar BMW style that is dominantly sporty. Headlights and grille make strong impression together and the side view is also perfect to lure you with perfection. It appears longer than it really is because of the contouring lines from front to back.
When looking at rivals they appear shorter in length and you definitely get an impression of being roomy as well. Long bonnet and wheelbase are pretty similar to all the cars of this series. When you get in quality is evident from every single part of the cabin mainly due to use of best material to build it.
 Technology laden interior
Cockpit like feel for the driver is surely awesome and every control is well within easy reach to the person sitting on the seat. Right in middle of the dashboard you would get a touch screen that has been placed accurately to give equal access to both persons in front row. It is comparatively a low saloon but getting in is smooth.
The second row is ideal for three passengers and to carry luggage plenty of space is available. BMW apps and iDrive system are also present inside cabin. Navigation system, Bluetooth connectivity and USB slot are other main features you will come across. To park it at right distance there is facility of distance control for driver.
Practicality of the cabin and Engine Performance
Storage in the cabin is good as there two bottle holders in center console that can take anything of the same size like coffee cups. Under armrest you will find space to put one litre bottle and door pockets are also of similar size. For mobile devices once again center console has precise place.
Petrol engine of the car is excellent with its total output of 184bhp and torque of 270Nm. The real power can be experienced while pushing the speed pedal. Engine is nimble and gives you superb response to every little push on accelerator. Twin power turbo engine can be imagined having that much force. It takes only 7.3 seconds to reach 100kmh speed mark.
Maximum Fuel Efficiency
Top speed is 235 km per hour and to reach the maximum, eight speed automatic gearbox works without any hitch as shifts are perfectly smooth. Fuel tank capacity is sixty liters and with fuel economy of 17.6 kilometer per litre you do not need to stop for refueling while on a long distance drive. There are number of other systems that help to improve fuel efficiency of this car. Carbon emission is well below the set standards of European authority but nothing you will find against engine efficiency and driving pleasure.