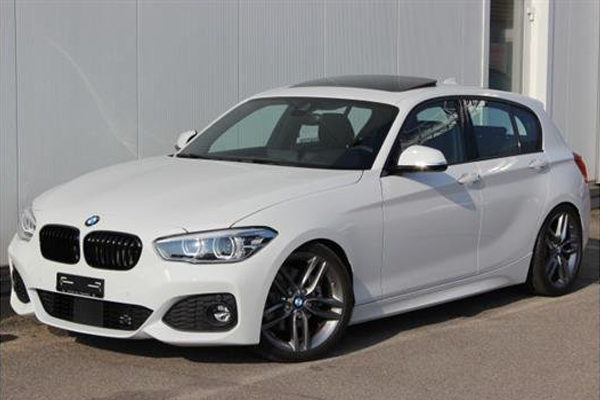 BMW 125d with riveting styling and smooth engine is the ideal car to drive
Automobiles play an uncompromising role in the lives of people who are living in 21st century. It will be no wrong to say that lives are incomplete without vehicles today.
And as high quality vehicle you will have, the more comfortable your life will be. If we are talking about comfortable and relaxing ride, then first name comes in my mind is BMW.
A German luxurious automobiles producing company, BMW with its headquarter in Munich, Germany, is taking extra care of the needs of its buyers all over the world. All the vehicles with the BMW logo are brilliant in terms of style and performance.
Interior and Exterior
BMW 125d is 5 door hatchback which offers 5 seating arrangement. Its features include keyless start, LED headlights, heated door mirrors, automatic air-con, DAB radio, Bluetooth, sports seats, sports suspension, 18-inch M Sport alloy wheels, ambient lighting, and Alcan Tara upholstery and much more.
BMW 125d also provides four driving modes, dealing from fairly economy-minded ECO PRO to Comfort, Sport and Sport plus. This clearly means the 125d can be smooth and relaxing one second, but racy the next.
BMW 125d Engines
While writing about detail description about engine of 125d we come to know that just like the 120d, the 125d also uses a 2.0-litre turbo diesel engine, with an efficient output of 215bhp – up 34bhp on the 120d.
As a final result, 0-62mph takes only 6.5 seconds (in contrast to 7.3 seconds for the 120d) when hooked up to the sharp eight-speed automatic (non-manual) gearbox in our test model.
The Fuel economy of BMW 125d is impressive, too. BMW asserts 58.9mpg, against 62.8mpg for the 120d. The one and only downside is that the clever 125d can't quite meet the 120d on emissions – it actually puts out 7g/km more CO2, at 126g/km, which fairly means road tax costs an additional £70 a year.
With a gigantic 450Nm of maximum torque from only 1,500rpm, but, the 125d always has razor-sharp reaction and lots of deep-chested urge, which surely makes it as swift as a petrol hot hatch just like the Ford Focus ST.
The sports suspension is 10mm lesser than standard, and certainly helps put a big smile on your face on a twisty road. All thanks to BMW's Drive Performance Control system, the drive is not uncomfortable, however.
In BMW 125d, the ride is comfortable and the steering is accurate and offers good feedback. The only inadequate thing in this car is that 'hot hatch' flair; it is quick for sure, but it feels somewhat conservative on the roads.
What we say
In order to conclude, we can confidently say that when you glance at the 125d M Sport in isolation, you surely feel it's a very good car indeed: flawless to drive, comfy, luxurious with a handsome amount of kit and engine is sharp, active, compact and efficient which deserves to be appreciated.