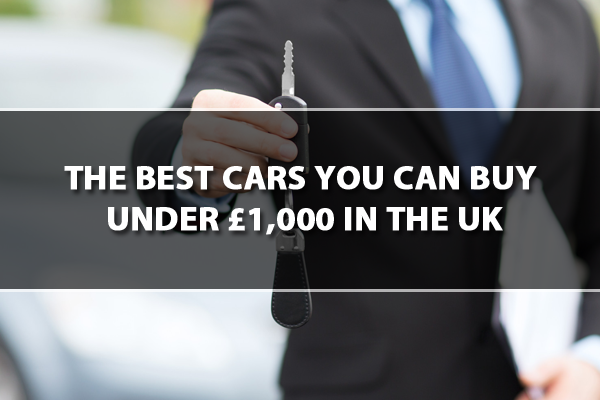 What type of car can you buy under £1000 in the UK? Here is the list of top 7 best cars to buy under £1000
It doesn't mean that if you are low on the budget in the UK, you cannot buy a car. You can still buy a good quality car in the UK, even for less than £1000. And it doesn't mean that the car with less than £1000 will be a mean car or will be a 30 to 40 years old model with no fuel economy and millions of miles on the odometer. There are thousands of good condition cars still available in the market and has a lot remaining that they can still deliver.
Car makers across the globe make hundreds of millions every year through their sales of new cars with utmost quality and ultra-performance figures. They are offering hundreds of cutting edge technologies in the new cars, a number of fuel saving gadgets and the most modern engines. When these cars offered in the market, their prices starts from around £30k or even up to £100k or more in some cases. But if you are in the position to buy a pricey car when it's new, you can opt for a secondhand unit for less than one-tenth of its price. Or may get help from our top seven ultra-budgeted cars.
What can you buy in under £1000?
Right here we've managed to select seven-robust cars of their time and they were quite pricey when they were new. Our selection of top seven cars has almost all kind of vehicles including hatchbacks, MPVs, and crossovers proving that the used or secondhand automobile market can provide you with virtually any variety of power at just about any type of price you wish to pay. For example, you can buy a Japanese model of Nissan X-trail and surprisingly, a 2005 model in under £1000 in the market. Don't think that it has already spent 12 years in the market but it still has a lot to deliver. Japanese models have around 25 years of life while working in good condition. You should believe or not, there are several Japanese models from 1980s in the third world countries, where no maintenance records, no MOTs and even without any proper care, Japanese cars are still running good. Even in India, a Suzuki model from 1950s is considered as a symbol of pride and used as a taxi in several cities. BBC world has made a documentary on it as well.
Anyways, would you like to have a Jaguar in just under £1000? Surprised? You supposed to be dear!  A Jaguar XJ8, new price around £40,000 in the late nineties. With a 3.2 litre v8 engine and excellent performance under the trust flag of Jaguar, it can also be yours in just under a grand. There are snares of course. Rust, mileage, and maintenance are all matters and need to be guarded of, but with a radical assessment and somewhat of determination there's no reason left behind that you won't come across a precise, affordable as chips famous one. Whether or not you're after a luxurious practice or easy sensibleness, this list has all of it for you. And at less than £1,000, each single one could be a half price hero for you.
Volkswagen Passat 1.8T SE (2002/02 Reg 100k miles)
New starts from: £17,590
Current market price: £785 only
Engine type: 1.8 litre 4cylender with 150bhp output
Current Fuel Economy on average: 34.0mpg
Carbon Emissions tax band: 199g/km and costs £270 per year
Euro NCAP: 4 stars tested on its arrival in 2001
Saloon automobiles are falling out of favour in the new vehicle market, and that has a favorable effect on their second-hand prices that people are less affectionate about the saloons. The Volkswagen Passat is stylish and a hero car of its time, and while you see the historical mileage data of any of the cars offered in the list, you can see that there are fewer cars with under 100k miles on the clock at this rate point. The Passat has a 1.8-litre turbo engine with five-valve-per-cylinder, and it is more than sufficient, and SE model has performance equipment with suggestive CD player, heated seats, and cabin climate control system.
Ford Ka Sport
Ford Ka Sport SE (2004/04 reg, 80k miles)
New model price starts: £11,195
Current Price: £800
Engine: 1.6-litre 4cylinder with rated power output 94bhp
Current fuel economy: 37 mpg on average
CO2/road tax: 182g/km / £230 per year
Euro NCAP: 3 stars when tested in 2000
Ford has an ability to generate best of the best small cars, and it is Ford who is ruling the UK hatchback market from the last couple of years. It Fiesta small car is the best seller in the UK and it is sold in large numbers every year. The original Ka is not any exception too. The flagship Sport Ka has a modest 94bhp 1.6-litre petrol engine, however, the crispy five-speed gearbox and lightweight structure make sure that is greater than sufficient energy, and the dynamic handling is guaranteed to position a smile on your face. The Ka small city cars are tarnished for rust, so stroll away from any model with bubbly paintwork, for the most part, across the petrol packing. We have selected a 2004 model year vehicle with 80k miles on the odometer, and this SE variant surfaces leather-based seats and air-con with full climate control system and a CD player.
Jaguar XJ8 3.2 (1998/R Reg, 131k miles)
New model Price on its Unveiling: £36,405
Current price: £900
Engine: 3.2-litre V8, capable of generating 240bhp and returning fuel economy of 24 mpg on average.
CO2 emissions / road tax: 288g/km / £235 per year
Euro NCAP: not tested on the NCAP rating platform
A Stand in £1,000 luxurious Jaguar model is anything of a gamble, considering that fuel economy and the running costs will be as high as they had been when the automobile used to be new. But there are some savings you can make easily as the several models of Jaguar XJ8 available in the market, and while its 3.2-litre V8 Jaguar engine wasn't the erotic one in the class, it's a smooth energy supply that befits a luxurious Jaguar. If you're looking at any pre-2000 illustration, timing chain tensioners, doubtful gearbox shifts, and rust are all indicators of negative maintenance, so an instance like the one we discovered, with a full history, is worth exploring.
Toyota Celica
Toyota Celica 1.8 VV-Ti (one hundred forty) (2001/Y Reg, 93k miles)
Price when launched: £16,980
Current price: £950
Engine: 1800cc with 4 cylinders and generates 140bhp
Current fuel economy: 36 mpg on average
CO2 emissions / road tax: 185g/km / £230 per year
Euro NCAP: not tested on this platform
The Japanese models have a longer life span as compare to the European or United states cars. They last for more than 30 years on the road with best performance figures and excellent body condition. You just need to give some extra care. The failure rate is also very slow and these models are most admired for durability rather than a luxury. But doesn't mean that they are not luxurious, Toyota offers all the features that a driver requires to drive safely and comfortably.
The Toyota Celica is one of the best models in its class and used to be a rallying legend, however by the point, the seventh and final T230 generation models arrived in 1999, it had become a stylish coupé car and was also offered in the UK market. The wedge-shaped appears have been designed to attract more youthful consumers, and the straight edges surely helped it to stand out in the market. Toyota remained successful in its technique to introduce new design and youth loved the model at that time.
But there was something else in the Celica that attract the customers than its wedge-shaped sharp design. It was its structure and manufacturing technique. Toyota additionally cut the vehicle's weight to strengthen its dealing with power came from a rev-pleased 1.8-Litre Toyota petrol engine with either 140bhp or 189bhp. What's more, this prospective future classic, in addition, promises the durability and reliability like very near to a bulletproof car.
MINI Cooper
MINI Cooper 1.6-Litre – 2001/51-reg, 115k miles on the odometer
Price on its launch: £11,600
Current price: £995
Engine: 1.6-Litre 4 cylinder, producing 116bhp
Fuel economy figures:  not less than 40 miles per gallon on average and keeps the promise of being Mini.
CO2 emissions / road tax: 163g/km / £185 per year
Euro NCAP rating: 4 stars when it was tested in 2002
There are only a few automobiles made in the world that can mix the MINI's mix of capabilities. Its retro-trendy looks, squashed sizes, fun dealing, comfort driving and classy cabin set new provisions in the supermini classification when the model arrived at the start of the new century when the UK was celebrating the millennium, and Mini has given a new millennium gift to its UK customers, it's a formula that MINI has never expired and still maintains to this present days.
The first BMW technology based MINIs are dying in on their twentieth anniversary, and now it's the time when there will be a big dent in the price of the mini models as they never salvage the prices so easily in the market. The mini has also gone global now. There are, on the other hand, a lot to opt for even at this stage, however, it's better to take out one with a full carrier history to show it has been looked after, as an alternative than readily pick the one with minimum mileage on the odometer.
It doesn't mean that Mini has a small body and its engine will also be a smaller unit, the supercharged Cooper S is probably a most powerful model and the most desirable too on the MINI Mk1 lineup, you'll have just as a lot of fun within the usual Cooper.  We determined that the 2001 mini cooper S model had included a reasonably low 7,000 miles per year. It has a whole carrier history and put it ahead of identical examples.
Vauxhall Zafira
Vauxhall Zafira 1.6-Litre 2005/55-reg, 120k miles on odometer
Price for a new model: £15,195
Now it is selling for: £995
Engine: 1.6-Litre 4 cylinder, with an output of 103bhp
Fuel economy current: it returns not less than 35 miles per gallon on average
CO2 emissions / road tax: 175g/km / £210 per year
Euro NCAP: managed to won an excellent 5 stars rating in 2005
in case you have a big family and your requirement is a family car, the model you purchase desires to provide the maximum space inside and a bit for cargo as well, however, these days which you can even get a good seven-seater for less than a grand is only Vauxhall Zafira in the UK. The Vauxhall Zafira Mk2 is now hitting rock bottom on the used market, and at the same time £1,000 best buys you a general membership model powered by a 103bhp Vauxhall Zafira petrol engine, it still has seven slightly spacious seats.
Vauxhall's Flex 7 seating overtone was the best that it is still in use and was carried over unchanged to the current Zafira Tourer, the seats should fold to go away an entirely flat floor like a mini commercial van to take all our cargo in it. It is the best choice so far for those who are looking for a family car.
Nissan X-trail
Nissan X-trail 2.2 dCi sport (2004/04 reg, 120k miles)
New model price: £19,995
Now available at: £995
Engine: 2.2-Litre 4 cylinder, producing 136bhp
Estimated fuel economy: 39 miles per gallon
CO2 emissions / road tax: 190g/km / £270 per year
Euro NCAP: won 4 stars (2002)
Even as the development for crossovers has noticeable the X-trail Mk3 change into a delicate-roadster, the common used to be a specific 4×4. With 4-wheel drive on most units, it had more off-road capability than the majority of family cars available in the UK in this class. It has earned more fame than it would ever need and it was yet an extra spacious model than a Qashqai, too.
Mk1 X-Trails have dipped even below £1k, however even these feature air con, electric windows and mirrors and the best of the best central locking system. The sport model offers the powerful 2.2-Litre Nissan x-trail diesel engine but it is a bit thirsty, it makes the Nissan an adequate tow vehicle.