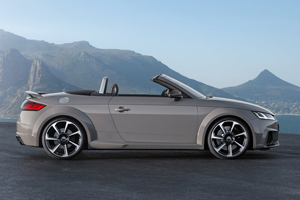 A hugely desirable and surprisingly practical small Sports car which is seriously fast
The third generation of the Audi TT coupe was launched in 2014 and this model has enjoyed a great success as well. First two models of the TT were not good sellers, but then Audi started working in its winning formula by evolving the vehicle design. They converted the TT into a smaller sports car with dashing styling and uniqueness. They blended the vehicle styling with the latest modern looks and features.
The all-new Audi TT has seen some competition in the market form the BMW 2 Series and Porsche Cayman from Germany, then Nissan 370Z and Toyota GT86 from Japan. The competitors were really strong with a massive list of choices and options in the trims at the same time. But Audi introduced its TT with ultra-high performance and trims like the RS, the TT looks are just magical and it is fast like an Audi R8 at the same time. The all-new TT receives a desirable 2.0 litre TDI diesel engine which is one of the most popular Audi TT engines in the UK. All the bits that made the Audi TT popular in the UK market are its dashing looks and styling with a luxurious built quality, everyday usability and performance. Overall the TT is designed to meet all the standards that a modern car requires.
Audi TT engines
Making the Audi TT engine family, there is a choice of four petrol engines and only one diesel unit for the diesel lovers. All Reconditioned Audi TT engines are great performers and they produce power from as low as 180bhp to the maximum of 400bhp.
Audi TT TFSI petrol engine range
Audi has introduced a massive range of petrol engines for its TT and it starts with a 1.8-litre TFSI petrol engine which is such a capable unit. This engine is capable of producing more than 180bhp and a hefty torque of 250nm at the same time.
This engine is connected to a six-speed transmission and can go from 0 to 62 miles per hour in just under seven seconds. Just like all the Audi models, this engine also has an electronically controlled top speed of 150 miles per hour. An automatic s Tronic transmission is also available but it is a bit slow overall as compared to the manual transmission. It makes 62 miles per hour in over 7 seconds and has a top speed of 149 miles per hour.
The 2.0-litre TFSI petrol engine is powered by a power boost technology and it is capable of performing 230hp with an unmatchable 370Nm of torque at the same time. It takes 6 seconds to get the benchmark speed of 62 miles per hour with the manual transmission and when it comes to the automatic transmission, it takes 5.9 seconds to do the same. This engine is also powered by a Quattro technology and its top speed is 155 miles per hour.
Audi TT S thrilling performance
Audi TT S is a 2.0-litre TFSI petrol engine and it cranks more than 300hp and 380Nm of torque at the same time. This engine takes only 4.9 seconds with a manual transmission and when it comes to the automatics Tronic transmission, it takes only 4.6 seconds. You can only get the car with all-wheel drive to help the engine transfer all its power to the all four wheels at the same time. Top speed is again electronically controlled to the maximum of 155 miles per hour.
Audi TT TDI diesel trim
The diesel engine is one of the most popular versions in the TT engine line-up. Where the diesel engine is powered by a six-speed manual transmission. At the benchmark speed, this engine takes only 7.1 seconds to reach 62 miles per hour. If you are after a reconditioned Audi TT engine in the UK, you can easily get one at most competitive prices in the UK.