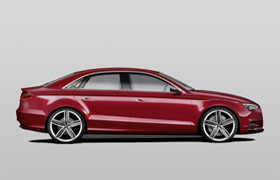 Buying a new car has changed a lot in the last ten years, the process has changed a lot from a simple transaction to
complicated choice of options, shapes, engines, body trims etc. The new addition to the Audi A3 range is a saloon version of the car. The A3 already comes in hatchback, Sportback and the Cabriolet that will be launched in  2014.
The A3 Saloon is a small-sized saloon mainly aimed to capture the US and Chinese car markets, however the German car manufacturer is  hoping to achieve good sales in Europe as well. Audi's model range has 47 different lines to choose from, the 'Saloon' represents four doors and a boot . It can be thought as a smaller sibling of the A4.
The A3 Saloon is without a doubt one of the best options for someone looking to buy a premium small car. The compact hatchback concept was first started by Audi with the A3 and other manufacturers followed, the main competitors include BMW 1 Series, Mercedes A-Class and Lexus CT.
The launch timing of the A3 Saloon is just about right with car buyers going for smaller cars to shed off tax burdens and city parking problems and the A3 serves the purpose right.
The Audi A3 Saloon comes with a choice of three Audi engines, two petrol and a diesel. The petrol engine range includes 1.4 TFSI and a 1.8 TFSi units delivering 140 PS and 180 PS respectively. The 1.4 emits 109g/km of CO2 while the 1.8 engine has 129 g/km  of carbon emissions. However, the pick of the range is 2.0TDI diesel engine with 150 PS of power output and 107 g/km of carbon emissions. A 1.6 TDI diesel engine will be joining the range in December this year (2013), with 99g/km of carbon emissions which will qualify the Audi A3 for road tax exemption. There are two gearbox options to choose from, a seven speed S tronic automatic transmission and a six speed manual gearbox.
The Audi A3 is available for the UK buyers with the starting price of £24,275.