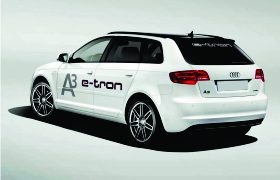 Audi's first hybrid to be launched in 2014 powered by 1.4litre engine and an electrical motor
Audi A3  e-tron is the first hybrid car by German auto manufacturer Audi. Although it is a hybrid but that does not mean it is any less of a car in any way. The Audi A3 engine is a 1.4 litre turbocharged unit which is
capable of producing 148bhp of power and the 75kW electric motor gives the output of 101bhp. The combined power output is 203bhp rather than the 249bhp, it is because of the way both the units blend when required. The car shoots from stationary to 62mph in just 7.6 seconds which is much faster than the Prius's 11.4 seconds.
It takes two hours to fully charge the A3 e-tron from industrial power supply or four hours from a normal electric socket which can give up to 31 miles of dive which is twice the mileage from what Prius offers. It makes the e-tron an ideal car for those who make a lot of short journeys. As it is a plug in hybrid one doesn't have to worry about running out of the charge, as the petrol engine is there to power the car and recharge the batteries, which means the total range of 580 miles with a full tank and fully charged batteries.
Audi claims a combined fuel economy of 188mpg thanks to the stored battery power. There are three driving modes to choose from – Sport , Efficiency and Electric Vehicle (EV) that can be chosen from a switch. In EV mode, as it is clear from the name, the electric motor works at the front, a power meter replaces the rev counter that shows style and consumption, trip data, energy use and battery status.
Audi is also in the process of developing a g-tron model that will be powered by natural gas. The engine will be the same 1.4 litre unit and a tank for the gas will be placed in the boot and the total mileage offered on petrol and gas will be 800 miles, however the car feels less powerful when on gas.
The Audi A3 e-tron is expected to be launched in 2014 and it will cost you about £32,500 to get your hands on one.