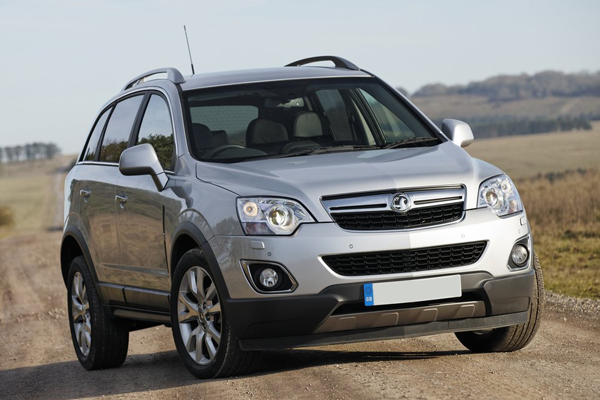 Vauxhall has given each and everything in its simple and rigid SUV
Vauxhall Antara is an outstanding five-door SUV
Antara is a good and practical SUV presented by Vauxhall, a name of trust in automobile industry. It is a well-built vehicle with stylish and elegant appearance. Shape is in smooth order with a great flow in it. From the front bumper till the rear of Vauxhall Antara, it is fully equipped with good and reasonable features. Front view is very dashing with small front grille along with logo in the middle of it. Headlamps and front bumper have great combination and gives a single look. High lift body structure offers good ground clearance. 4×4 makes it a powerful vehicle among others of its class where we have Renault Koleos, Citroen C-Crosser and Toyota RAV4.
Interior is well knitted and offers great practicality
Antara is a five-seat SUV with good space in it for its occupants. Its interior is well knitted and has good practical approach. Dashboard is cleanly woven with features. Quality of features is reasonable and the main thing in its interior is its reliability and rigidness. Its interior stuff is of good quality and durable in built, so its interior is long lasting. Overall interior stuff is good and awesome. Control panel is fitted with great visible features made of standard material with great practicality. Seats arrangement is nice and good for all occupants, enough space at front and at rear as well. Steering wheel is in good position to give nice and good grip over its power. Being an AWD vehicle, it is heavy and smooth in driving.
Regular features are abundantly fitted in Antara to accommodate its client.
Vauxhall is a great manufacturer and knows the requirement of its client so in Antara SUV it put all things with its best to serve its customers. It has ABS, hill-start system, dual zone climate control, adaptive cruise control, traction control, parking sensors, standard airbags, electric seats, heated seats, electric windows, electric mirrors, CD player, folding rear seats, remote locking, central locking, ISOFIX children seats anchor points, telephone facility, service indicator, rear view camera, roof rails, Sat Nav and good infotainment system.
Engine range is good with reasonable performance.
There are several engines in engine line up but one each in diesel and petrol is really impressive in performance. There is a 2.2-Litre diesel engine with 181bhp and 295lb/ft torque. It is outstanding in performance, especially with automatic transmission, it behaves impressively. It takes 9.3 seconds to get from 0-62m/h along with top speed of 125m/h. Its fuel average is 43m/g and 175g/km of Co2 emissions. It is coupled with six-speed manual and six-speed auto transmissions with AWD unit as standard.
In petrol engines category, there is a 2.4-Litre petrol engine with 164bhp and 170lb/ft torque. It is capable to take this SUV from 0-62m/h in 10.2 seconds along with top speed of 118m/h. Fuel consumption is also not economical with 32m/g with 206g/km of Co2 emissions. It is fitted with six-speed manual gearbox and four-wheel drive unit as standard.
It is a safe, reliable and comfortable vehicle with great performance on and off the road. Its storage space is also good.