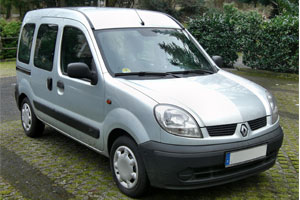 Renault Kangoo Eco mode has also been adopted by the French automaker to boost fuel efficiency
The new Renault Kangoo is distinguished by its new turbo 1.2-litre petrol engine and dual-clutch automatic gearboxes. This little vehicle has been making big promises as a result of these advances. The power and torque of the new engine have risen, resulting in a more efficient compact van. As a result, it would outperform its predecessor. On the contrary, you will obtain excellent fuel efficiency, which is great for purchasers. Automatic speed transmissions are offered as an option, and manual gearboxes are standard.
With these factors in mind, it's no surprise that Renault is so popular among small business van owners. Compact Kangoo's entry-level model is specifically designed to boost unit sales. With greater performance, the four-cylinder engine and turbo petrol power modify the image. The old engine is still in use, but the new one is more intelligent. Eight per cent more power and thirty per cent more torque will be pumped through it.
The standard 1.2-litre petrol engine provides 75bhp and is fuel-efficient, but it is unlikely to carry hefty loads, so it is not a viable alternative if you have such plans. The second petrol engine is the 1.6 litre, which produces 95bhp but is more expensive. The Renault Kangoo 1.5-litre diesel engine is ideal for being fuel-efficient and delivering 84 horsepower, ensuring a pleasant ride for passengers in two rows. The last-mentioned machine comes highly recommended by most specialists for pleasant travelling.
Despite greater engine power, fuel economy has improved
For a distance of 100 kilometres, a manual model consumes 6.2 litres of gasoline, while automatic gearbox versions consume 6.5 litres. Side airbags, cruise control with a speed limiter, hill start aid, and rear sensors are also available on short wheelbase variants. Renault Kangoo Eco mode has also been adopted by the French automaker to boost fuel efficiency.
It can carry smaller loads of up to 540kg because of the three cubic metres of cargo capacity provided. There are 10 spots to tie up in the new cargo mat. Easy access is provided by double sliding side doors. The tailgate has a top hinge as standard, while different types of doors are available as options.
The performance is amazing whether it is empty or filled
This vehicle performed well both empty and loaded during testing, demonstrating that it is capable in all scenarios. Although the engine may experience strain when pulling it at full load, this is not a regular occurrence. When you first enter the Renault interior, the first thing you notice is how spacious it is.
Another characteristic that stands out is the usage of plastic in various interior areas. The headroom is excellent, and the windscreen is set back far enough from the front row seats to provide a surprising amount of space for a light business van. Excessive usage of black plastic does not give motorcyclists the required feeling.
The driver's comfort is maintained
The driver's seat has been made more comfortable by the use of special fabric and the ability to modify in six different ways manual. You won't be able to recline the seat due to the cargo barrier, so you'll miss it. The majority of the controls are near the driving wheel. After a few easy tips, you can link your phone with the systems.
The dashboard bin is large enough to carry a variety of items, while the side door pockets are ideal for storing bottles. For increased storage space, an optional above shelve may be installed. Although the engine is polished, wind noise can be distracting when travelling at high speeds on the highway. This car's suspension is excellent, and you will not be bothered when riding on it by nasty bumps on the road.
This level of comfort is unusual for a vehicle of this size. However, it is absorbent, and the level of comfort remains consistent over a variety of terrains. Because you are not good at abrupt curves, you must be cautious when travelling through them. The difficulty of handling is also due to a body form with high sides. However, it is important to stick to these manoeuvres to maintain reasonable control of the vehicle.
The process of refinement continues
With time, the manufacturer has fine-tuned it such that road noise and engine buzz are kept out of the interior. Passengers are not affected by passing wind or engine noise in this manner. It was made feasible by increased sound insulation and the use of solid materials. There is still space for development in this area, which would undoubtedly appeal to additional customers.
One more thing which make it even reliable is the availability of replacement Renault engines for sale across the country. Now you don't need to spend hours on the internet or at breakers yard. You can get replacement engines from any reliable engine dealer at reasonable rates.
Among Europe's Best-Selling Automobiles
The French Renault Kangoo is one of the top four options if you're seeking a hatchback van at a reasonable price. Six automatic and manual gears, as well as an efficient twin-clutch, are included in the new model. Since its introduction precisely two decades ago, it has been one of Europe's best-selling vans. The current modification in the second-generation automobile met Euro6 Engine specifications last year. It comes in two body lengths and is offered in UK car markets. Maxi and standard lengths are effective in capturing the attention of potential purchasers of this type of vehicle. Because of its length, it may be utilised as a crew van because the cabin can accommodate more people. The shorter van can also carry a 650kg load, thus both alternatives may be used for a variety of tasks.