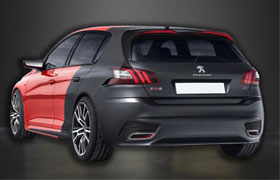 Peugeot has released teasing pictures of the 308 R Concept which will be unveiled in the Frankfurt Motor Show
next month. It is not expected to be more than a limited edition of the all-new 308 which is yet to be launched. The most distinctive feature of the new 308 R Concept is its paint job. It is painted half in red and half in blue-black. This look is said to be taken from the Onyx Supercar Concept. Apart from the roof and tailgate, all the body is carbonfibre-finished giving the car a phenomenal power-to-weight ratio.
The Peugeot engine powering the 308 R Concept is the same that is under the bonnet of the all new RCZ-R. It is a 1.6l four cylinder engine which gives the output of 270hp. The maximum torque value is 243lb ft between 1,900 to 5,500rpm. Despite all these sporty numbers, the carbon emissions of the 308 R are impressively low at 145g/km and a 85g/km version will also be offered.
It is front wheel driven mated with a six speed manual gearbox. The is 30mm wider, there are thin bars on the central intakes and on the side there are two huge air intakes. The bonnet boasts two vents which not only look stylish but also they help in better engine air supply. The 308R is equipped with 380mm and 330mm diameter brake discs at the front and rear respectively.
At the back, the 308 R Concept has a pair of symmetrical exhaust pipes, two 'claw' LED lights, giving the over look of 'ready to pounce, like a cat focused on its prey'. 308 R boasts 19-inch alloys with 235/35 tyres that add a lot to its 'hot hatch' look plus it is 30mm lower than the current 308.
Inside, the cabin is based in Peugeot's iCockpit (taken from the 208) and a 9.7-inch tocuchscreen infotainment system.
With all its hot looks, interesting colour scheme and green performance, the Peugeot 308 R Concept is set to turn head in the Frankfurt Motor Show.